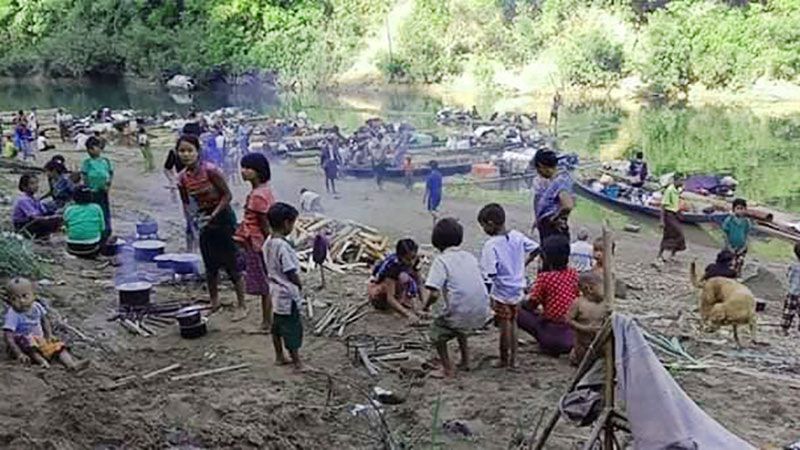 Khin Tharaphy Oo | DMG
2 September, Sittwe 
The United Nations office in Myanmar has pledged its full support for efforts to combat a recent COVID-19 outbreak in Arakan State, and urged the warring sides in the state's armed conflict to "heed the Secretary General's call for a global ceasefire" amid the pandemic. 
"Access to communities in need in northern Rakhine [Arakan] and southern Chin state has also been curtailed due to the ongoing armed conflict in this area," the UN office said in a statement on September 1.  
"The United Nations reiterates its call on the parties to the conflict to heed the Secretary General's call for a global ceasefire, which was echoed by the Security Council through adoption of the Resolution 2532 on 1 July 2020, and cease hostilities to enable safe and unimpeded access to all communities in need of assistance." 
The UN statement also urged a full restoration of mobile internet access in several Arakan State townships and Paletwa Township, Chin State, that have only recently been granted limited, 2G network access after more than a year without any mobile internet.  
"Access to timely and accurate information about the risks of COVID-19 as well as preventive measures is essential to ensuring people's safety," the statement said.  
"Nowadays, the general population actively seeks this information on mobile internet. Therefore, access to functional internet that allows applications to run on mobile phones is essential and full internet service must be restored in areas currently not having such service," the UN resident and humanitarian coordinator in Myanmar, Ola Almgren, was quoted as saying.  
The United Nations touted its involvement in the fight to contain an ongoing coronavirus outbreak in Arakan State, including by providing Personal Protective Equipment (PPE) to medical personnel and funding to bolster hospital capacities. 
The number of coronavirus-positive patients in Arakan State had risen to 464 as of September 2 at 8 p.m. Even as the state's COVID-19 case count has spiked in recent weeks, there has been no appreciable decline in hostilities between the military and Arakan Army — as has been the case since the pandemic began. 
Two incoordinate, unilateral ceasefires in recent weeks have highlighted a disconnect between the conflicting parties in Arakan State.  
The military said in a statement on August 24 that it would extend its unilateral ceasefire until September 30 in order to facilitate efforts to combat COVID-19 and honour its obligations under recent peace agreements, but the extension notably does not include Arakan State. 
Just over a week later, the three-member alliance comprising the Myanmar National Democratic Alliance Army (MNDAA), the Ta'ang National Liberation Army (TNLA) and the Arakan Army announced a 70-day unilateral ceasefire extension, in force from September 1 to November 9.