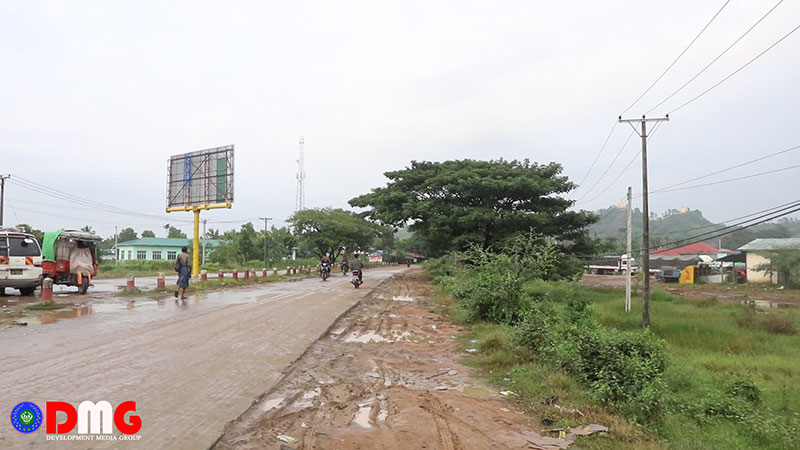 Nyan Hein | DMG
3 September, Sittwe 
Two teenage girls were wounded by shrapnel after an artillery shell allegedly fired by the military landed in Kyauktaw Township's Alaekyun village at about 9 a.m. on September 3, according to family members of the victims and an Arakan State lawmaker. 
The victims have been identified as Ma Kabyar Nwe, 16, and Ma Zar Nwe, 14, from Alaekyun village. 
Ma Kabyar Nwe sustained a shrapnel wound to her face while Ma Zar Nwe received shrapnel wounds to her back, said Daw Ma Khin Aye, the mother of Ma Kabyar Nwe. 
"A military contingent that was stationed in Shwepyi village about 2 miles north of Alaekyun village opened heavy weapons fire on the village," she told DMG. "We attempted to hide ourselves under a rice granary when we heard heavy weapons firing. The artillery shell hit a coconut tree in front of our house and the victims were injured by shrapnel." 
The two girls were sent to Kyauktaw Hospital, said U Nyi Pu, chair of a local philanthropic organisation named Phyusin Myittar. 
"We are heading to Kyauktaw Hospital and we are now on the way to the hospital," he added at about 4 p.m. on Thursday. 
DMG contacted U Oo Tun Win, the Lower House lawmaker for Kyauktaw Township, seeking confirmation on reports of two teenage girls being injured by artillery fire. The MP confirmed the incident but said he was not given specifics. 
The Tatmadaw True News Information Team had not released any statement on the shelling of Alaekyun as of 6 p.m. on Thursday. 
At least eight other civilians in Kyauktaw Township, Arakan State, were wounded by artillery strikes on Thinganet village late Monday.