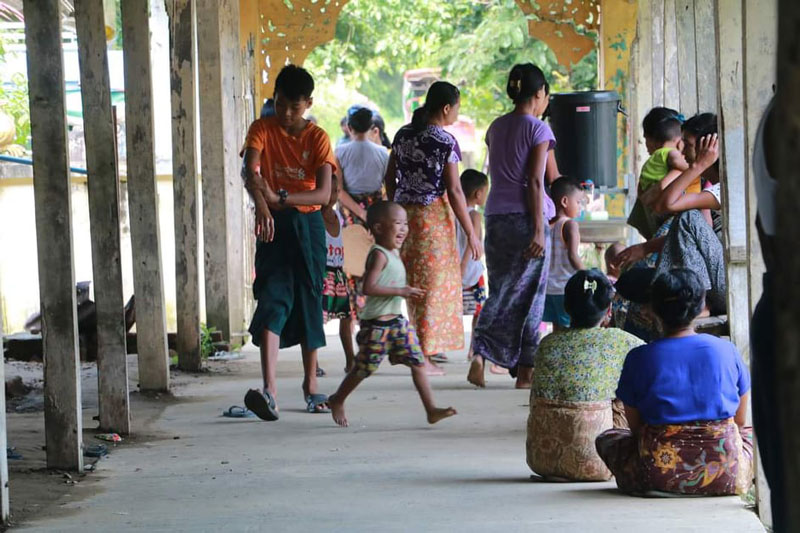 Myo Thiri Kyaw | DMG
5 September, Kyauktaw 
With COVID-19 infections continuing to rise in Arakan State, almost 20,000 locals residing along the Kaladan River in Kyauktaw Township have recently left their homes for safer places due to ongoing armed conflict in the area. 
From August 31 to September 4, regional instability pushed people from more than 10 villages such as Alaekyun, Kyaukgusu, Shwepyi, Shwepyithit, Thazi, Myauktaung, Ponna Raw, Akhaza, Phayapaung, Taungpauk, Lamutabin in Kyauktaw Township. 
Based on data collected by DMG, the approximate exodus numbers are: 2,000 residents of Alaekyun village; 2,500 from Shwepyi village; 3,400 from Shwepyithit village; 2,000 from Thazi village; more than 7,000 from Phayapaung and Taungpauk villages; over 1,000 from Ponna Raw village; over 50 from Akhaza village; and some 1,000 from Lamutabin village, totalling more than 18,900 people. 
Military personnel entered Shwepyi village on August 31 and conducted interrogations of residents at the local monastery, prompting more than 2,500 people to flee the village, said U Tun Aye Maung, the Shwepyi village administrator. 
"Poor families without money and relatives are living in huts outside the village. They are very pitiful. I am very concerned about their food supplies due to lack of jobs after fleeing because they are odd-job workers," he said. 
Artillery shells fell into Alaekyun village on September 3, leaving two girls wounded. Residents subsequently fled to nearby villages. 
U Win Hla Tun, the administrator of Alaekyun village, said: "We fled in fear. Two girls from our village were wounded in shell explosions. As we are in fear of bullets but [also] infection of COVID-19, we ran away to safer places." 
After security members questioned more than 30 villagers from Shwepyithit village on September 3, over 3,400 locals reportedly left their homes behind. 
"Now, runners are not from a single village. People from almost all the villages along the Kaladan River fled. In the future, all the people will face many difficulties," said U Tun Tun Myint, administrator of Shwepyithit village. 
Those who left their homes are sheltering in Thayettabin, Minthataung, Pauktaw, Sabaseik, Thayagon and Seemoung villages, as well as in the town of Kyauktaw. 
The biggest exodus in recent days came from the neighbouring villages of Phayarpaung and Taungpauk, where at least 166 homes were burned to the ground, allegedly by the military, on September 3. In addition to an estimated 7,000 residents of the two villages, another 1,000 from nearby Ponna Raw village fled their homes in fear of being arrested by the military, according to locals. 
At a press conference in Nay Pyi Taw on September 4, Maj-Gen Zaw Min Tun from the Tatmadaw True News Information Team refuted allegations of soldiers setting fire to Phayarpaung and Taungpauk villages. 
A total of 500 people from Kyaukgusu village have fled, according to village administrator U Hla Maung Sein, after a man there was shot dead on August 31. 
The needs of those uprooted in recent days will be addressed, said U Win Myint, the Arakan State minister for Development Affairs as well as a state government spokesperson. 
"We will attend to their needs. It depends on their requests. We [first] knew just information about the events posted on social media. Then, we learned about their situations at meetings," said U Win Myint. 
The number of internally displaced people (IDPs) in Arakan State has surpassed 200,000 due to the conflict between the military and the Arakan Army over the past two years. Even as the state's COVID-19 case count has spiked in recent weeks, there has been no appreciable decline in military-AA hostilities — as has been the case since the pandemic began early this year. 
On September 1, the United Nations office in Myanmar pledged its full support for efforts to combat the COVID-19 outbreak, and urged the warring sides in the state's armed conflict to "heed the Secretary General's call for a global ceasefire" amid the pandemic.  
"Access to communities in need in northern Rakhine [Arakan] and southern Chin state has also been curtailed due to the ongoing armed conflict in this area," the UN office said in a statement.