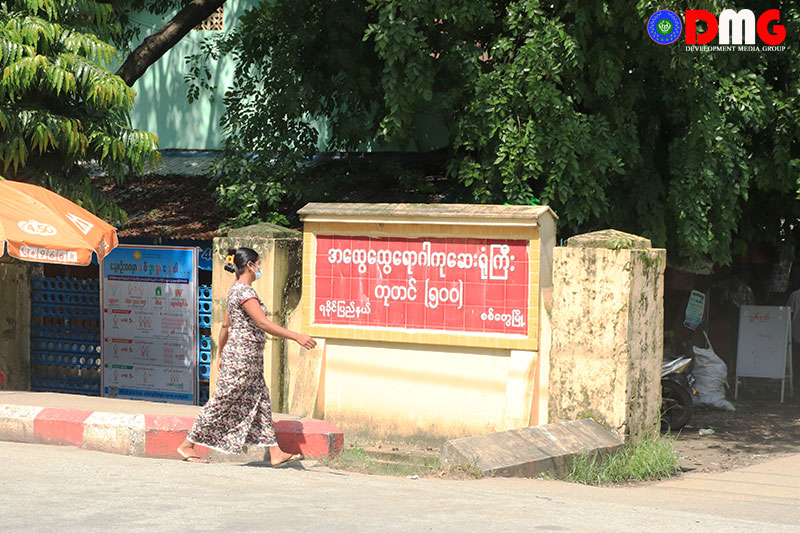 Kyaw Thu Htay | DMG
5 September, Sittwe 
Ten COVID-19 patients in Arakan State who had been receiving medical treatment at Sittwe General Hospital have recovered and were discharged from the hospital on September 5. 
The seven women and three men were discharged after complying with all regulations and health guidelines at the hospital, said Dr. Zaw Lwin, superintendent of Sittwe General Hospital. 
"There are some difficulties when we provide medical treatment to the patients. They recovered quickly because they followed regulations and guidelines at the hospital," Dr. Zaw Lwin said.  
Ko Soe Min Khaing, one of the 10 patients discharged, said: "All doctors and nurses are taking care of the patients. I was given medical treatment for 15 days. I'm now discharged from the hospital after I tested negative twice. I wish all people around the world to be free from COVID-19." 
Dr. Zaw Lwin said the vast majority of patients still receiving treatment at the hospital in Sittwe could be discharged soon, adding that only a handful of cases with comorbidities such as diabetes, hypertension or lung conditions had less rosy prognoses.  
The 10 patients who were discharged after twice testing negative will now undergo a spell of home quarantine, Dr. Zaw Lwin said. 
During an event to bid farewell to the 10 discharges, the former patients were presented with flower bouquets and a round of applause from hospital staff.  
The number of COVID-19 cases in Arakan State stood at 515 on September 5.