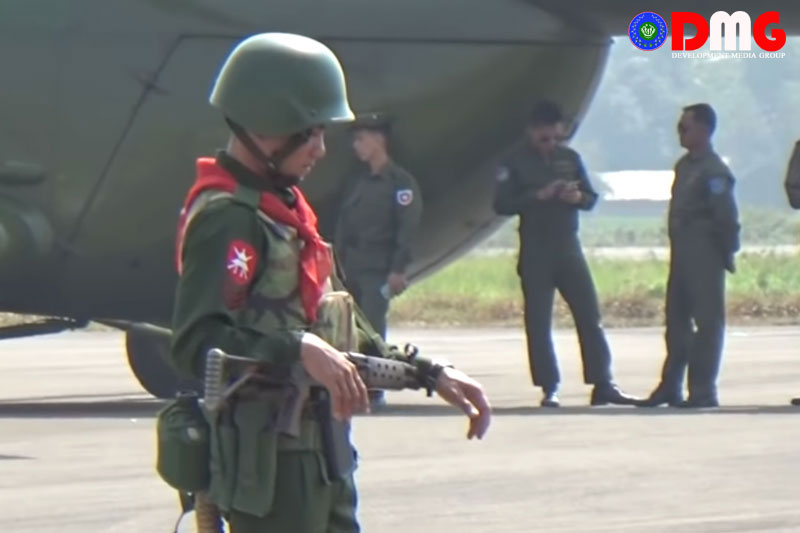 Hnin Nwe | DMG
12 September, Paletwa

Among 41 people in Chin State's Paletwa Township who were detained, interrogated and ultimately released by the Tatmadaw last week, some men have received subsequent medical treatment for injuries allegedly received during beatings while in military custody.

The Paletwa residents were arrested on September 9 on their way back from Yaytinkhun village, according to the arrestees, who say they were acting as porters for goods from neighbouring Kyauktaw Township when they were detained.

Ko Maung Tun Win described a bitter experience in military custody, telling DMG that his and others' hands were tied and they were taken to a hill overlooking Yokechaung village. There they were blindfolded and beaten while undergoing interrogation, he alleged.

"They tied all of us with rope and then brought us by motorboat along Paloktaung Creek. On arrival at the regiment, they covered our eyes with cloth and asked whether we provided aid to the AA [Arakan Army] group. When we replied 'no,' they hit us with gunbutts," he said.

Ko Myo Win Thu, a man from Intapaung village in Mawlaik Township, Sagaing Region, who is currently residing in Paletwa along with his family, said innocent people engaged in local livelihood activities should not be arrested.

"They beat all of us when it was evening," he recounted. "They asked us whether we'd met with the AA group. They struck us and hit us with gunbutts. We were innocently transporting goods."

A total of 28 men and 13 women were arrested, including Ma Oo Kyawt Sein.

"We women were arrested separately," she said. "They asked us whether we met with AA. Then, they asked me if I was single or married. They did not beat us. However, we were crying when we heard the sound of the men being beaten because it was frightening. I was crying because my brother was also beaten."

Although all of the arrestees were released, some of the men are struggling to walk normally due to injuries and some are vomiting blood, said U Oo Aung, the elder brother of arrestee Ko Maung Tun Win. As such, he added, they are receiving medical attention.

"My brother received treatment for vomiting blood at the hospital," U Oo Aung said. "The surgeon gave him some drugs. Such kinds of drugs are not enough for his suffering because his injuries are very severe. But being a porter, he doesn't have enough money for hospitalisation. As he didn't have a sponsor for medical treatment, I took him back home."

DMG attempts to reach Maj-Gen Zaw Min Tun and Brig-Gen Ye Yint Aung of the Tatmadaw True News Information Team for comment were unsuccessful.

More than 60 local residents who were carrying goods as porters were also arrested and investigated near Paletwa Township's Yeytinkhun village on the morning of September 6. They were released that evening.