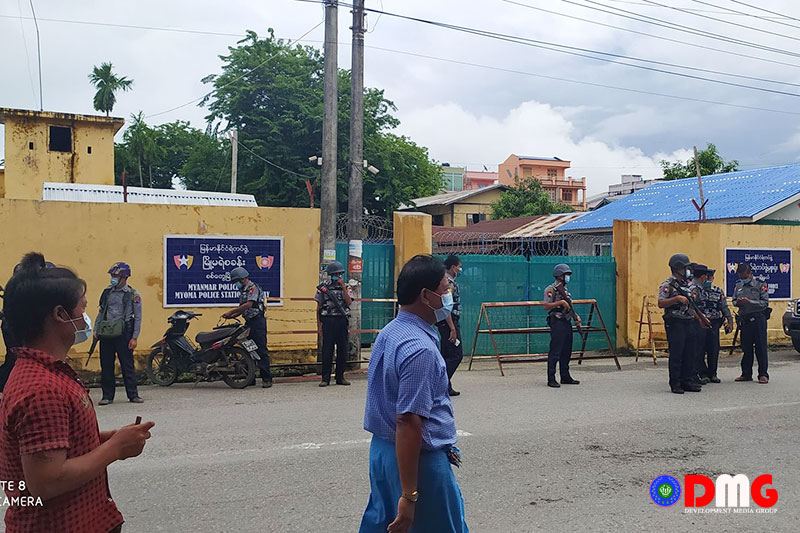 Aung Htein |DMG
14 September, Ponnagyun 
The family of a rice mill owner from Sabarhtar village in Ponnagyun Township, Arakan State, who was arrested by the Tatmadaw for allegedly storing rice for the Arakan Army said they are concerned about the detainee's safety as they remain unable to meet with him nearly two weeks after his arrest. 
Family members say security personnel initially arrested 48-year-old U Ye Kyaw Tun on August 31 after they found dozens of rice sacks at his milling operation in Arakan State. 
The Tatmadaw transferred the detainee to Sittwe's No. 1 police station on September 2 after conducting a one-day interrogation, family members added. 
He was brought back by the military for additional questioning on September 10, and was transferred to a police station in Sittwe on September 12, according to family members, who said they have been unable to meet with U Ye Kyaw Tun since his arrest.  
"I want to meet my father in person. If not, I want to talk with my father on the phone. I heard he is fine. If possible, I want to meet my father and talk with him," said Ma Su Hlaing Oo, the daughter of the detainee. 
The Tatmadaw True News Information Team released a statement on September 1 saying the military had confiscated 80 rice sacks from U Ye Kyaw Tun's house, alleging that the rice was being stored for the Arakan Army. Family members of the detainee have denied the military's accusations. 
The detainee is facing charges under Section 50(a) of the Counter-Terrorism Law and he is due to appear before the Sittwe Township Court on September 17, according to family members. 
Hostilities between the military and the Arakan Army have flared with regularity in western Myanmar since late 2018, with rising military tensions accompanied by a growing civilian casualty count. Dozens of people have been arrested over suspected links to the Arakan Army.