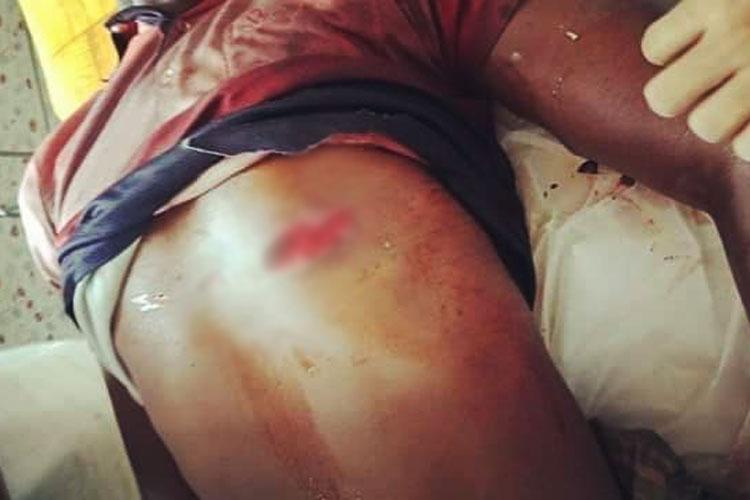 Hnin New  | DMG
15 September, Rathedaung 
A Muslim man in Arakan State's Rathedaung Township was injured by gunfire on the morning of September 15, according to locals. 
The victim from Arkartaung (Muslim) village was shot when security personnel from a naval vessel opened fire while he was fishing in the Mayu River along with his daughter, locals said. 
The 30-year-old man has been identified as Mamouk Yawphi, said Ko Bawli, a resident of Arkartaung village. 
"The victim and his daughter were catching fish in the Mayu River at the time," he told DMG. "They were shot with small arms from [the direction of] Kalarchaung village while they were preparing to go home. A military navy vessel was docked near the village and security personnel were stationed there." 
Bullets hit Mamouk Yawphi's left arm and chest, and he is currently receiving medical treatment at Buthidaung Hospital, Ko Bawli added. 
A navy ship sailing south to north along the Mayu River opened fire without any hostilities taking place between the Tatmadaw and the Arakan Army, said U Khin Maung Latt, the Upper House lawmaker representing Rathedaung Township. 
"The military navy ship sailed along the Mayu River and opened small arms fire on the victim near Arkartaung village. Security members from the Tatmadaw navy used to fire like this if they found suspicious things," the legislator said. 
DMG phoned Maj-Gen Zaw Min Tun and Brig-Gen Ye Yint Aung of the Tatmadaw True News Information Team for comment on the incident, but they could not be reached. 
A 6-year-old boy was wounded by shrapnel when an artillery shell landed and exploded in Aungzigone village, Rathedaung Township, on September 11. 
Clashes between the military and the Arakan Army have continued amid growing concern over a recent surge in locally transmitted COVID-19 cases in Arakan State.