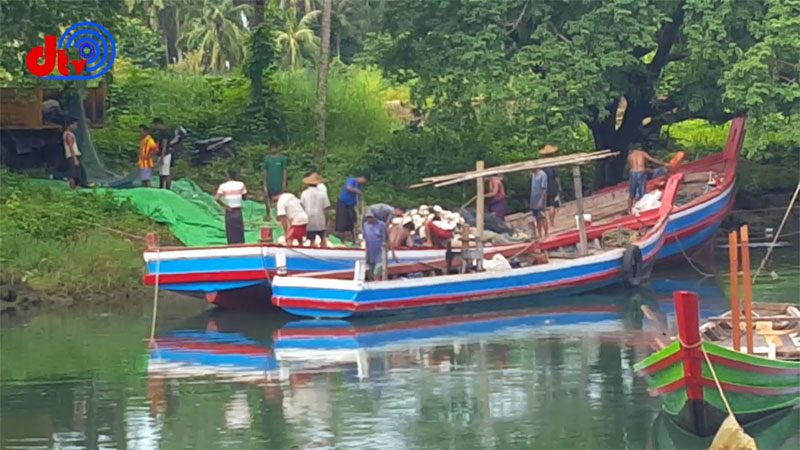 Myo Myint Kyaw | DMG
20 September, Ngapali
Although the fishing season has ostensibly resumed this year amid the scourge of a recent COVID-19 outbreak, onshore fishermen in the town of Ngapali are struggling to restart their operations, according to businesspeople in the fishing industry.
U Kyaw Wai Soe, chair of the Ngapali Kyaw Paik Fishing Entrepreneur Association, said the global pandemic has resulted in labour and market difficulties.
"We cannot get workers or buyers. Fish are exported to China, Bangladesh and Thailand, so we cannot get buyers," he said.
U Kyaw Than, a businessperson in the fishing industry, said authorities should come and see the challenges facing the industry.
"All people who are involved in the fishing industry are facing troubles for their livlihoods. I want authorities at the state level to know our situation. I want them to come and see in our region," he said.
"Our business was hit by the first wave of COVID-19,"  U Kyaw Wai Soe explained. "The second wave impacts again. We presented [our challenges] to the relevant authorities to receive COVID-19 relief loans to be able to operate the business in the coming months. We told the Myanmar Fishing Federation about the situation of the fishing industry."
U Tun Thein from the Thandwe District Department of Fisheries said the state government has not provided any instruction on how to address the challenges facing the onshore fishing industry.
"When they apply for loans from the government relief fund, we give recommendations for them. Their challenges will be lessened if they receive a certain amount of loan," U Tun Thein said.
A majority of people in Thandwe District are tied to the fishing industry in some way. There are 85 businesspeople in the onshore fishing industry and more than 2,000 workers, according to officials.