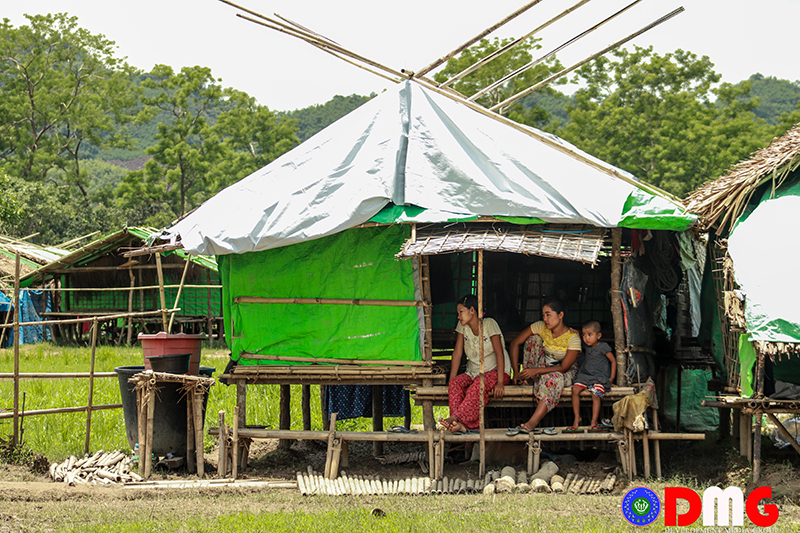 Myo Thiri Kyaw | DMG
26 September, Sittwe
Camps for internally displaced people (IDPs) in conflict-wracked Arakan State are at risk of rice shortages as provisions of the staple grain expected from the government have not arrived in recent weeks, according to camp managers.
U Wai Hla Aung, manager of Tin Nyo IDP camp in Mrauk-U Township — where more than 3,000 IDPs are sheltering — said the camp had received rice provided by the International Committee of the Red Cross (ICRC) but not from anticipated government sourcing
The crowding at the camp is such that rice stocks are sufficient only if both the ICRC and the government are providing, U Wai Hla Aung said. 
"It is more than a week late that rice should have been sent," he said. "Previously, we could borrow rice from villagers, but they cannot lend now because their businesses are in crisis due to the COVID-19 outbreak. We have rice for a week now." 
Rice provided by the government also has not arrived at Pipinyin IDP camp in Mrauk-U Township, where more than 2,000 IDPs reside, said U Thein Kyaw Mya, the camp's manager. 
"The rice the government provided last month ran out. We are in dire need of rice. We do not have even one bag of rice," U Thein Kyaw Mya said. "People in the camp have to borrow from others, or have to eat other food instead of rice. If they run out of their K40,000 in money provided by the government, they will have nothing to eat."
The managers of the camps said they informed the government that rice supplies expected from it did not arrive as usual, but that they had not received any response thus far
Also facing a food shortage is Annthar village IDP camp in Minbya Township, where more than 500 IDPs are taking shelter, because it has not received rice from the government for more than two months, according to Ko Ann Thar Gyi, who is helping to provide aid to the camp.
"It is difficult to get donations at the moment, so we are facing difficulties. We have nothing for next month. We are in dire need of rice, cooking oil, salt and sanitary pads. We want donors to help us as soon as possible," he said.
Nyaung Chaung IDP camp in Kyauktaw Township also needs food, shelter and toilets due to increasing IDP numbers, said camp manager U Khaing Myo Aung.
"If the government does not provide relief aid, who will come and donate at this moment [of COVID-19 outbreak]? Villages and towns are under lockdown orders," U Khaing Myo Aung noted. "The government doesn't come and doesn't allow other donors to come to us. Because it is during the COVID-19 pandemic, the government needs to take responsibility for the IDPs."
U Win Myint, a spokesperson for the Arakan State government, said the government has provided relief aid for IDPs monthly, adding that he was not aware of why the Department of Disaster Management, which is responsible for providing aid on the ground, had not yet arrived to the camps in recent weeks.
The armed conflict between the Tatmadaw and the Arakan Army in Arakan State will enter its unofficial third year later this year, with the hostilities resulting in more than 200,000 IDPs and hundreds of civilian casualties.