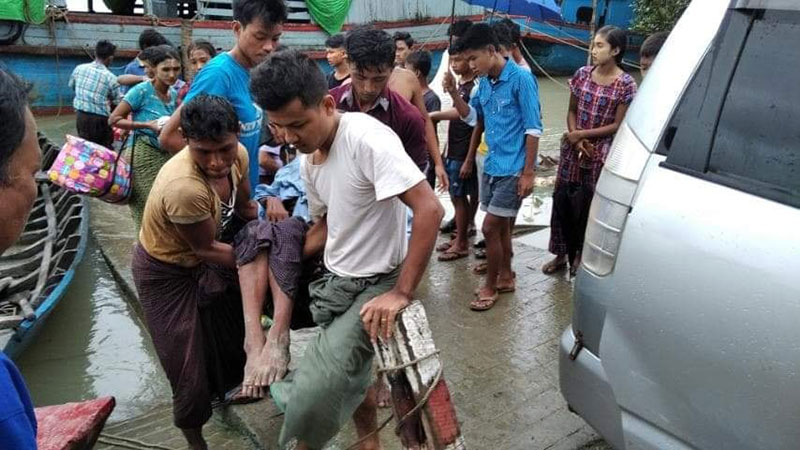 Aung Htein | DMG
5 October 2020, Sittwe 
An internally displaced person (IDP) sheltering at Saphokyun Kanpyin IDP camp in Rathedaung Township, Arakan State, was shot amid a barrage of gunfire reportedly from a naval vessel stationed nearby on October 5, according to locals. 
The victim was hit by a bullet when the military craft in the Mayu River opened small arms fire on the IDP camp on Monday afternoon, locals said. 
The 73-year-old victim has been identified as U Thagyan Lone. He is said to be in critical condition and was sent to Sittwe General Hospital as the bullet penetrated his left hip and entered his lower abdomen, according to volunteers who assisted the victim.  
U Thagyan Lone had fled from Hteeswel village in Rathedaung Township and was displaced to the Saphokyun Kanpyin IDP camp when it was fired upon. 
"A military navy vessel docked at the mouth of the Hteeswel Creek and opened fire indiscriminately on the IDP camp. Everyone hid themselves at the monastery for fear of being hit by the bullets. As he was about to hide under a tent, he was hit by a bullet," said U Kyaw Tin Maung, an IDP also from Hteeswel village. 
Daw Khin Saw Wai, the Lower House MP for Rathedaung Township, said the IDPs at Saphokyun Kanpyin are simultaneously facing the twin challenges of displacement due to armed conflict and the COVID-19 pandemic. 
"Where there is fighting, you do not get to live in your own home, but go to nearby areas with only a single piece of clothing. There is still infection from the COVID-19 pandemic. The IDPs are worried about being infected by the deadly virus," the lawmaker added. 
A displaced person taking shelter at Shwe Parami IDP camp in Rathedaung Township was wounded by gunfire after fighting broke out between the Tatmadaw and the Arakan Army in June. 
Despite the high rate of COVID-19 infections in Arakan State, military activities in the region continue and civilian casualties climb unabated amid the ongoing conflict, according to the Rakhine Ethnics Congress (REC).