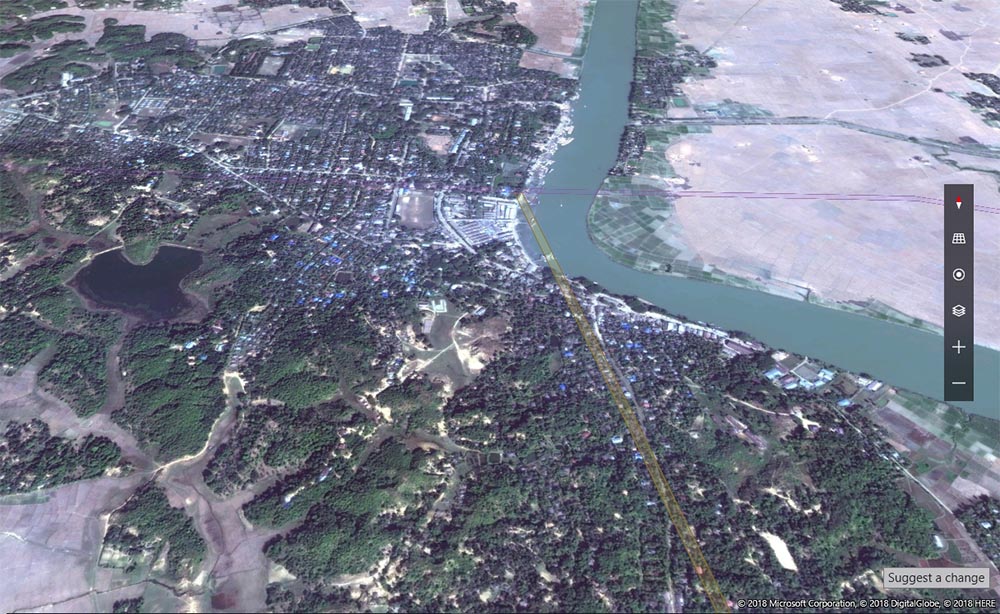 Satellite photo of Buthidaung
After sending an investigation team to Gu Dar Pyin village of Rathedaung, the government announced on the 2nd of February that there were no mass graves, as the Associated Press reported.
According to an AP report mass graves of possibly 400 Bengalis massacred in retaliation for the terrorist attacks launched by the Bengalis on August 25, 2017, were uncovered. The investigation team, led by a Rathedaung Township administrator, and accompanied by 17 others including police officers from No. 3 Border Guard Police Headquarters, Township legal officers and assistant officers investigated all possible sites around the village, together with residents of the village.
The government press released a statement today summarizing that allegations of human rights violations would not be denied, however an investigation would be carried out provided credible evidence emerges. In the case of any violations, action would be taken in accordance with existing laws.
The reality of what happened in Gu Dar Pyin Village was that as the security forces repulsed a surprise attack upon them by roughly 500 ARSA led militants wielding clubs, swords, knives, slingshots and some guns one security personnel was wounded and 19 bodies of ARSA members or affiliates were found, along with a variety of weapons.
The statement said that the bodies were well buried and case no. 5/5/2017 was filed under section no. 50(i) of the Counter Terrorism Law.
The Rakhine State government said further investigation would continue in and around Gu Dar Pyin Village to find out if what AP reported actually took place. The investigation was ongoing and it would continue to investigate based on the availability of information and evidence.