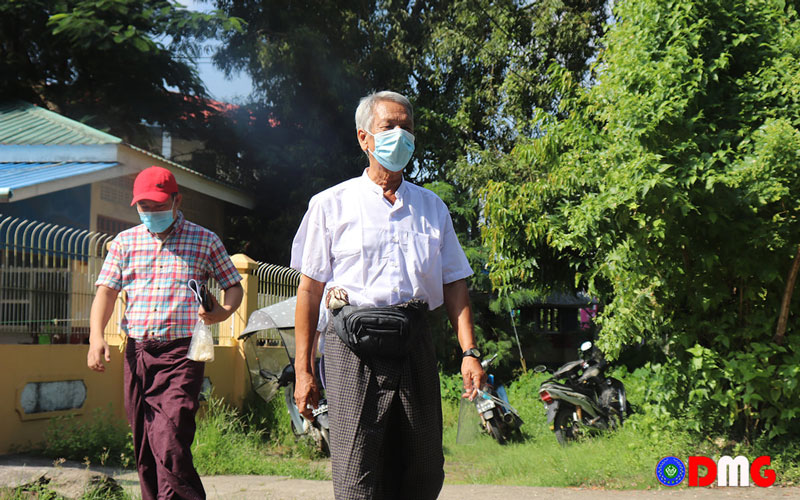 Aung Htein | DMG
8 October 2020, Sittwe
A former lawyer from the Arakan State capital Sittwe was charged at the township court under the Telecommunications Law's Section 66(d), a notorious defamation provision, on October 7.  
The accused, U Thar Pwint, said he had shared posts on social media about the deaths of civilians in Arakan State amid ongoing armed conflict in the region.
"I was sued without any reason. If I was sued for sharing posts, the person who put up the post should be the No. 1 accused," said U Thar Pwint. "Secondly, I was not the only person who shared the post. If there are 20 who shared the post, all these people have to be sued. The reason for me is they don't like me."
Major Kyaw Zaw of a local Tatmadaw engineering unit filed the case as plaintiff under Section 66(d) of the Telecommunications Law, which threatens up to three years in prison for anyone "extorting, coercing, restraining wrongfully, defaming, disturbing, causing undue influence or threatening to any person by using any Telecommunications Network."
U Thar Pwint has been released on bail but will face his first court hearing on October 21.
Another Sittwe resident, U Soe Naing, was sued in August under 66(d) for allegedly making comments about the government on social media. 
"There are things relating to the government and there are also things not relating to the government. I was not blaming the government but just commenting as a citizen on what they have said and done," U Soe Naing said.
"Dear war victims, please honour the government for giving us a bar of soap to protect against coronavirus," reads one of U Soe Naing's Facebook posts. "We'd like to know whether the [Chief Minister] U Nyi Pu government, which said it has responsibility and accountability, has any plan to resign or not."
"The government, the Tatmadaw, the leaders must bear political criticisms," said Ma Thet Su Pyae Eain, a researcher for the freedom of expression advocacy group Athan. "We criticise the filing of lawsuits under such sections. All the cases filed against them should be withdrawn as soon as possible. Only then can we carry on with good democracy." 
In the first four years of the National League for Democracy (NLD) government's five-year term, cases involving violations of free expression were filed against 1,051 people, according to a July report from Athan.
Charges brought under the Telecommunications Law topped the list.