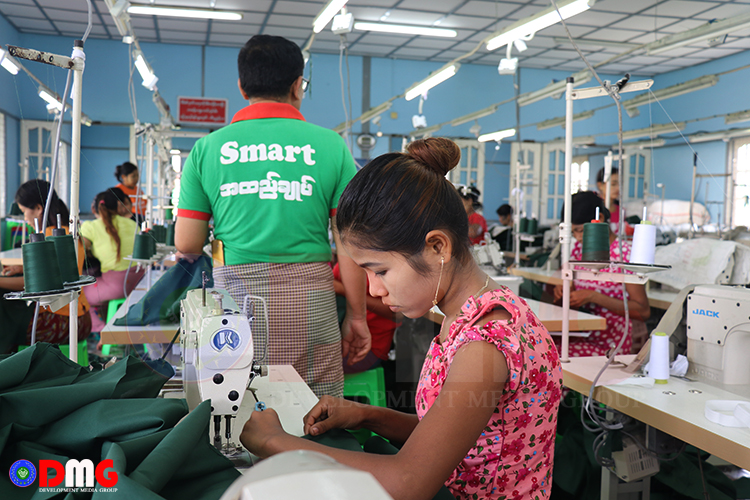 Thet Naing | DMG
May 29, Sittwe

As many as 500,000 units of school uniforms made for this academic year are stranded at the SMART garment factory that opened in Sittwe, Arakan State, because it could not ship them to the Department of Basic Education, said U Min Zaw, the owner of the garment factory.

The factory made the uniforms in advance to sell to the department according to the price of the tender. However, the department does not have a plan to provide students with school uniforms this year so the factory faces the problem of having a massive stock of unwanted garments.

"We have produced nearly 500,000 sets of dresses for school uniforms. So, our investment is about K700 million. If the department does not accept our product, we will face heavy losses," U Min Zaw said.

The factory annually submitted school uniforms to the Department of Basic Education according to the price the government sets, and it officially manufactured the uniforms this year after getting permission for making the uniforms in advance, he added.

The factory got K1,393 for one school uniform previously and it received K1,400 in 2018, U Min Zaw said. "We did not quote the price this year also," he said.

The factory is the first garment factory in Arakan State and about 100 people are working there.
Since the finished product could not be sent to the targeted consumer, the factory is temporary closed and its workers are also temporarily laid off from their work.

"Currently, we have 100 workers. At the moment, we finished sewing the clothes. So, not all workers come the factory. In total, 400,000 units of school uniforms have been packaged. For some unfinished uniforms, we have yet to sew buttonholes and pack the garments in polyethylene bags," said Ma Thandar Khaing, line supervisor of the SMART factory.

Workers want to be employed at the factory on a regular basis. They can keep working in the factory only if their garments can be shipped to the proper department.

They said that they have to go and work in Yangon if the garments are still stranded in the Sittwe factory.