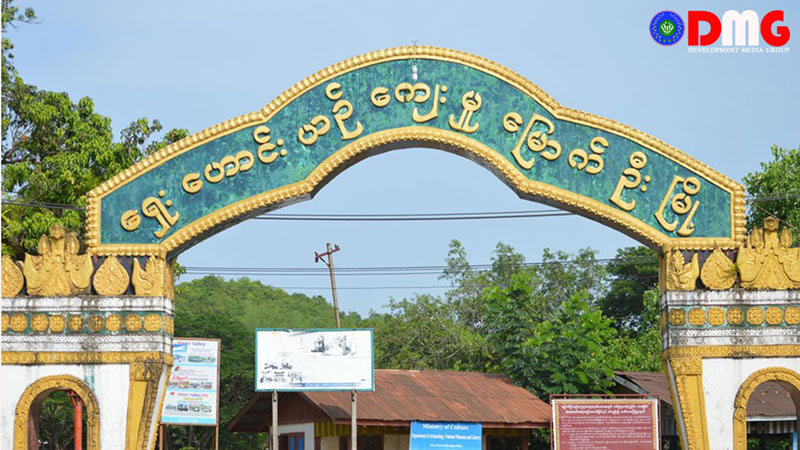 Hnin Nwe | DMG
16 October 2020, Sittwe 
An internally displaced person sheltering at an IDP camp in Arakan State's Mrauk-U Township has been arrested by police for allegedly violating local curfew orders, according to family members of the detainee. 
The arrestee has been identified as Ko Kyaw Tin, 36, an employee of a drug control office in Okphokan Village, family members said. 
He was arrested at a security checkpoint near Ngwe Taung Pauk Bridge at about 9 p.m. on October 14 while returning from a highway bus terminal in Mrauk-U's Htamarit Ward, said U Maung Than Chay, the detainee's father. 
"My son went to the bus terminal that day. I don't know the reason why he went there," U Maung Than Chay told DMG. "When the security guards asked him if he would come back, he said he would not. When he returned after drinking alcohol at night, he was arrested by the police at the security checkpoint." 
Ko Kyaw Tin was reportedly detained at Mrauk-U police station, but family members were not allowed to see him, he added.  
"When we went to the police station, we had to stay outside and we were told to return home by a police official, saying he [Ko Kyaw Tin] had not been interrogated. My son was taken to the township court after we returned from the police station. We were allowed to see him for a few minutes at the court. My son was reportedly arrested for violating the nighttime curfew," he said. 
DMG contacted the Mrauk-U Myoma police station seeking comment on the arrest, but was unable to connect with any police officials. 
A man was injured and his brother was arrested when security personnel from a checkpoint near Ngwe Taung Pauk Bridge fired several shots at them as they were returning from a drainage ditch in front of Mrauk-U Hospital after fishing there on September 20.