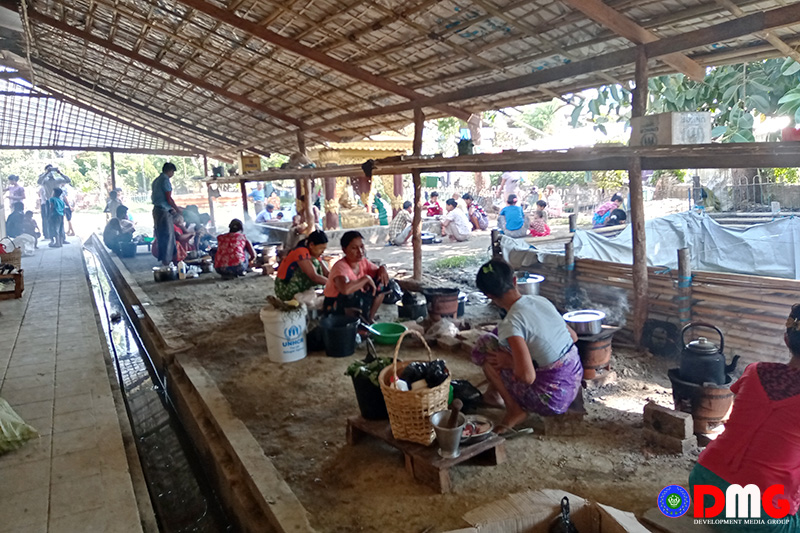 Myo Thiri Kyaw | DMG
21 October 2020, Sittwe 
Due to local travel restrictions, a camp for internally displaced people (IDPs) called Sasana Beikman in Arakan State's Kyauktaw Township is facing food shortages, according to camp inhabitants. 
U Kyaw Aye, who volunteers at the Sasana Beikman IDP camp, said provisions of drinking water, beans and cooking oil had arrived from donors in recent weeks, but dwindling rice supplies were a concern. 
"Lives are very difficult as food is in short supply. Cash money is running out as the people cannot work," U Kyaw Aye said. 
Travel restrictions have been imposed on Sasana Beikman after an 84-year-old woman at the camp tested positive for COVID-19 on October 15. 
Since the camp has been locked down, IDPs have not received a monthly donation of K15,000 per person from the World Food Programme, monthly rice rations, nor K40,000 from a government COVID-19 relief fund, said U Kyaw Thaung, an IDP at Sasana Beikman. 
"They are living on the remaining rice and by sharing among the camp refugees. Those from the villages who are friendly with the refugees send vegetables. Actually, [most] are eating just rice. As they have no job, they cannot buy even vegetables, making lives more difficult. Donors are invited to come donate," he said. 
Dr. Than Tun Oo, the head of Kyauktaw Hospital, said two IDPs at the camp who were in contact with the coronavirus-infected woman had subsequently tested negative for COVID-19 but have been quarantined. He also said healthcare services were provided once a day to people at the camp. 
DMG attempted to contact Kyauktaw Township administrator U Kyaw Win regarding the situation at Sasana Beikman, but he could not be reached. 
Due to fighting between the Tatmadaw and the Arakan Army over the past two years, the number of IDPs in Arakan State has reportedly surpassed 226,000.