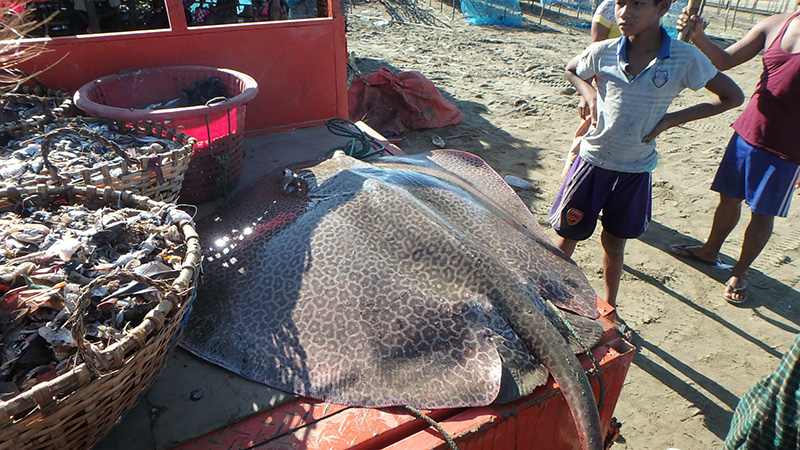 Thet Paing | DMG
21 October 2020, Sittwe

Shark and ray populations off the Arakan State coast have declined due to overfishing, according to local residents and organisations engaged in marine conservation.

According to surveys, the two fish populations have fallen annually over recent years, marine species conservation officer Ko Ent Maung of the Wildlife Conservation Society (WCS) told DMG.

The WCS conducted a survey of shark and ray populations, as well as living standards of fishery workers, from 2017-2019 in Thandwe, Manaung, Kyaukphyu, Sittwe and Gwa townships.

"Not only has our survey, but also another one by Norwegian scientists, indicated declines in their populations. The decline is mainly attributable to overfishing. It is, however, difficult to say how many are left," said Ko Ent Maung.

The falling shark and ray populations have serious impacts on the health of underwater ecosystems, said freshwater and sea conservation manager U Zaw Lun of Fauna & Flora International (FFI).

"Both species are indicators of the sea. If there are not those creatures in a sea, something must be wrong with that sea. So, fishery workers also have a responsibility to conserve those creatures. Only then will the fishing industry be sustainable," he said, noting the shark's particular importance as an apex predator in marine food pyramids.

"We at FFI, the Fisheries Department and the WCS have designed a national-level shark and ray conservation plan. We have already submitted the draft to the Fisheries Department," he added.

A local resident of Kyauknimaw village, Ramree Township, said the impacts of population loss on the local seafood trade were noticeable.

"You can barely catch rays these days. Some 10 years ago, rays were quite abundant. But due to overfishing, you can hardly catch one every day," he said.

There are over 50 species of sharks and 70 species of rays off the coast of Myanmar, and the conservation plan aims to conserve 13 shark species and 14 ray species as a priority, according to FFI.