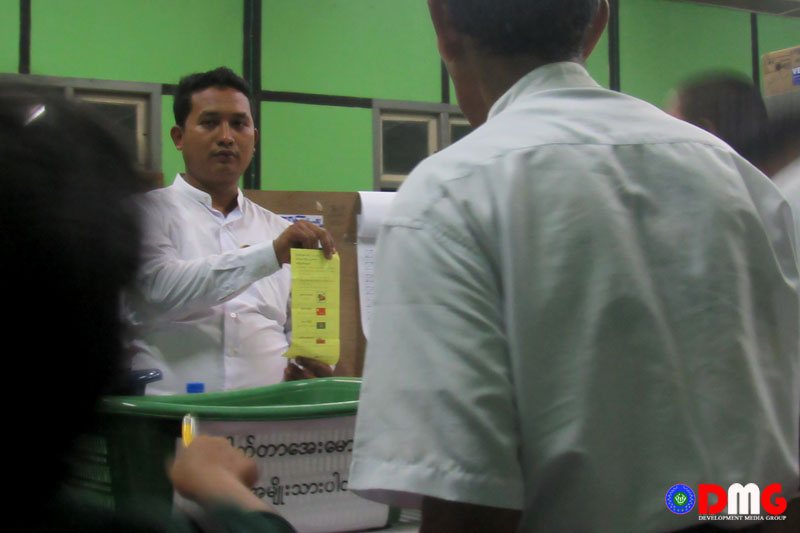 Min Tun | DMG
23 October 2020, Sittwe

Cancelled elections in Arakan State's Pauktaw and Maungdaw townships will disenfranchise more than 225,000 eligible voters, according to the township election subcommissions, as critics dispute the contention that security concerns are preventing the election from being held there.

More than 197,000 eligible voters in Pauktaw Township and over 28,000 in Maungdaw Township are among more than 1.2 million in Arakan State who will lose their right to vote on November 8. But in Pauktaw and Maungdaw, where conflict has been negligible, many are questioning the ostensible reason for the nixing of the polls.
And some local election officials seemingly agree.

"The election can be held in Maungdaw Township, because the situation is stable," said U Tun Hlaing, chair of the Maungdaw Township election subcommission. "At first, I thought the election could be held in Maungdaw, even if it could not be held in other townships. About three months ago, the relevant commission asked me if the current situation in Maungdaw Township could allow for holding elections, and I said yes."

On October 16, the Union Election Commission (UEC) said the entirety of nine Arakan State townships — Pauktaw, Ponnagyun, Rathedaung, Buthidaung, Maungdaw, Kyauktaw, Minbya, Myebon and Mrauk-U — as well as dozens of village-tracts and wards in four other townships in the state, would not be holding elections on November 8.

Clashes between the Tatmadaw and the Arakan Army have flared in seven of the nine townships, but Pauktaw and Maungdaw are outliers in that regard.

U Aung Kyaw Htwee, a candidate who was running for a seat in the Arakan State legislature representing Pauktaw Township, said the UEC had erred in characterising Maungdaw and Pauktaw as unable to hold elections due to conflict.

"Not a single gunshot was heard in Pauktaw Township since Myanmar gained her independence more than 70 years ago. I would like to say that the UEC's decision not to hold elections in such a peaceful township is a complete misreading; that it is not [possible to hold] fair and free elections in their view," he said.

Meanwhile, failure to hold the general election in parts of Arakan State could escalate conflict and increase human rights abuses, warned U Aung Naing, project coordinator for the Arakan State Election Monitoring Group.

"Cancellation of the general election could lead to more human rights abuses in conflict-torn townships in Arakan State. Because there have been human rights violations in those areas from the beginning. Candidates who have the right to speak the voice of the people in parliament are also deprived of their rights. The local people also lost their right to express. I think the human rights abuses and the conflict situation will escalate under such circumstances," he said.