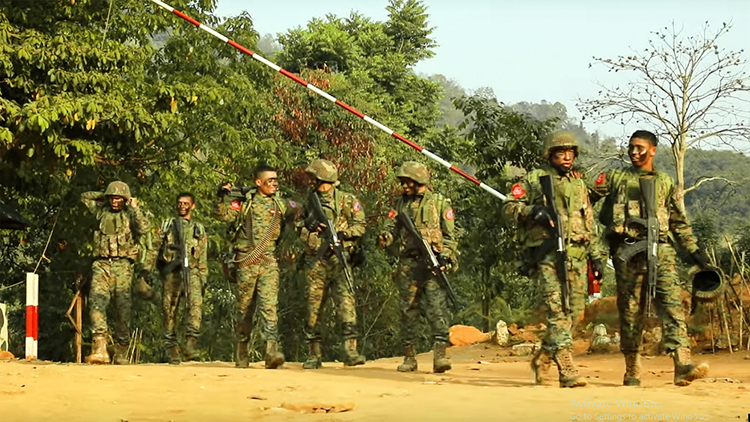 Nyan Hein | DMG
23 October 2020, Sittwe
The Chin Human Rights Organization (CHRO) has claimed that the Arakan Army (AA) forced local villagers in Paletwa Township, Chin State, to sell rice to the ethnic armed group at prices below prevailing market rates.
The CHRO quoted residents as saying the AA forced locals from Kyaungchaung, Baungwa, Hnonebugyi and Hnonebungel villages in Ngasha village-tract to sell rice at K40,000 for a sack, while the market price is approximately K75,000 kyats. Villagers forced to carry rice sacks to AA outposts were paid K2,000 per sack for their labour, the CHRO said in a report on October 20.
"The Arakan Army has been collecting extortion money since September 14. Two baskets of rice per house are given to the Arakan Army," said a local who declined to be named.
Ngashar village-tract is located about a five-hour boat ride from Paletwa town.
"Now that the people are suffering from COVID-19, I would like to say that the AA is not sympathetic to the people; forcibly collecting rice from the people at a time when all transportation routes are blocked," said Salai Kyaw Aung, secretary of the Chin IDP Support Committee. "These incidents are not new, and people have been suffering from them for a long time."
DMG did not contact the AA to inquire about the CHRO allegations because the government has declared the ethnic armed group to be a terrorist entity and has taken action against some media outlets that have reached out to the AA as a reporting source. 
"There are two Khumi tribes. One tribe describes themselves as Arakanese Khumi, and another as Chin Khumi. Some local residents say the AA did not do such activities," said Ko Tin Tun Aung, a resident of Paletwa town. "They say the AA did not force them to sell rice or extort rice. They say even if the AA could not pay cash up front, they would ask to wait for a few days and always pay the money."
Hostilities between the Tatmadaw and the Arakan Army, coupled with the coronavirus pandemic, have caused significant disruption to transportation routes and supply chains in southern Chin State's Paletwa Township, which neighbours Arakan State. Local commodity prices have risen as a result. 
Earlier this month, the Chin State government sent 1,700 sacks of rice and other food rations to Paletwa Township in an effort to meet shortages there due to travel restrictions and other supply chain challenges.
The Chin State government has said it will sell rice at low prices to Paletwa Township residents in consideration of the hardships brought on by the twin crises of armed conflict and the coronavirus pandemic.