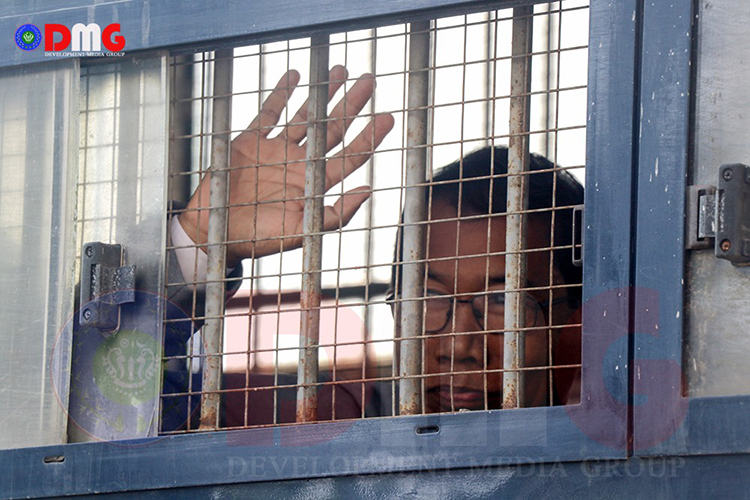 Phadu Tun Aung/ DMG
March 19, Sittwe
Sittwe district court today sentenced former chairperson the Arakan National Party (ANP) Dr. Aye Maung and author Wai Hun Aung to 20 years imprisonment for sedition and high treason.
"They are ordered to serve two years imprisonment for the charge under section 505(b)- and 20-years imprisonment for the charge under section 122. The judge ordered the sentences to run concurrently, and reduce the detention period," said Daw Aye Nu Sein, advocate for author Wai Hun Aung.
The duo had been charged with three counts of public speaking at a literary talk for a commemoration event in Rathedaung town on January 15 in 2018. The literary event was to mark the 223rd anniversary of the fall of the Arakan Kingdom to the Burmese in 1784.
Three charges of sedition, high treason and links to unlawful an organization are still standing. But the district court refused one charge under section 17 (1) and (2) of the Unlawful Associations Act because there is no sufficient evidence.
The section 22 of the 1973 Interpretation Expressions Law and section 453 of the 2018 Constitution states that a person's one action should be charged and punished one time although his/her offence can be charged for more than one case. Their case has had three charges brought against them and have been issued two punishment. So, the verdict was carried out against the existing rule of law, Daw Aye Nu Sein said.
"The decision of the court shows the verdict is not made in accordance with the existing judicial laws in Myanmar," she added.
Dr. Aye Maung's lawyer will appeal to the State court for his long term imprisonment she said.
"If we cannot accept the decision of the district court, we will appeal to the State court," said U San Shwe Maung, advocate for Dr. Aye Maung.
But the author's lawyer did not say if he will file an appeal or not.
"If he believes that the justice of the country decides fairly under the rights of appeal, he will be satisfied. However, if he feels the judge will be bias or partial in the decision making process for his appeal, then he will not appeal", Daw Aye Nu Sein said.
Hearing the verdict of the district court, people outside and inside the court demanded to release them. Some were crying when they knew the court decision.
The court's compound had tight security because of the crowd at the court. Members of Arakan Front Party (AFP) headed by Dr. Aye Maung and members of ANP attended the court to hear the verdict. The pin of their party emblem was pinned to their shirts. Local people from some villages in Rathedaung, Minbya and Sittwe also came and heard the verdict.