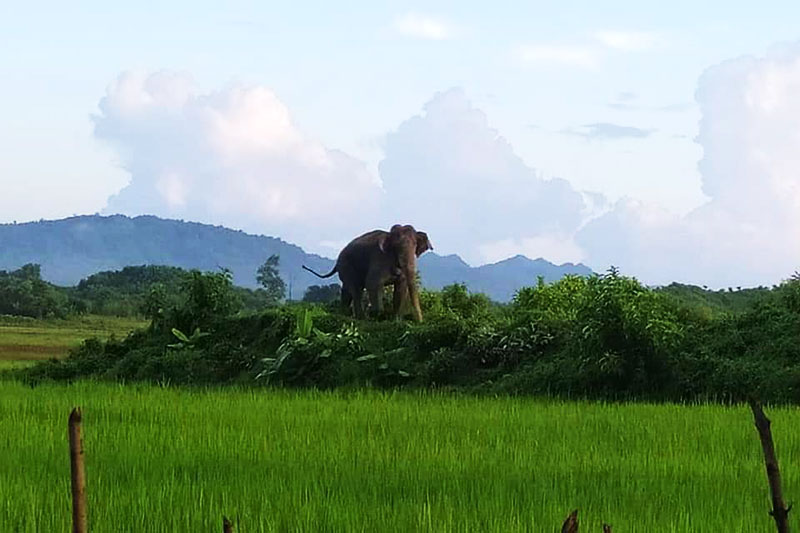 Thet Paing | DMG
27 October 2020, Sittwe
 
With a population of just a few hundred, wild elephants in Arakan State could face extinction within a century if not properly protected, environmentalists have warned.
 
The state's elephant population is estimated to be about 400, a drastic decline from a few thousands some decades ago, according to the assistant general manager of the Myanmar Timber Enterprise (MTE), Dr. Zaw Min Oo.
 
"Elephants have gone extinct in Shan State, and Kawlin and Katha [in Sagaing Region]. So, it is time elephants were conserved in their remaining habitats, like Arakan State, Ayeyarwady and Bago regions," he said.
 
Deforestation and poaching are the primary drivers of population decline, and the extinction of elephants would do major damage to local ecosystems, said veterinarian Dr. Myint Thein of the Yangon Zoo.
 
"Elephants are often considered the best gardeners because they travel a distance of around four football pitches a day. They eat a wide variety of plants and poop out the seeds as they travel. This helps various types of plants grow in various places," Dr. Myint Thein explained.
 
According to a survey conducted in 2010, there were 316 wild elephants living within the Mayu mountain range in northern Arakan State, and 15 elephants in Thandwe District, which is home to logging businesses, said Dr. San Lin, assistant manager of MTE.
 
Noting the particular value that Myanmar places on "white" elephants — the rare albinos among the pachyderm cohort — he added: "As elephants are a gem of the country, elephants in the state should be conserved systematically."
 
In collaboration with Myanmar's Forest Department, the Wildlife Conservation Society (WCS-Myanmar) is implementing an elephant conservation program at a wild elephant sanctuary in the Arakan mountains. Site manager Ko Htet Arkar Aung of WCS-Myanmar said there is strong public cooperation in elephant conservation but his team is understaffed, with just 30 members to take care of 330,000 acres of sanctuary.
 
The majority of the wild elephant population lives in northern Arakan State, where it is a significant challenge for the Forest Department and international nongovernmental organisations to establish a presence on the ground due to instability in the area.
 
"We currently have no plan to conserve elephants in Buthidaung and Maungdaw due to security concerns. But those places are home to not only wild elephants but also other endangered wildlife species, and are designated as key biodiversity areas of Myanmar. Those places must be conserved," Ko Htet Arkar Aung said.
 
Myanmar's elephant population is estimated to be less than 2,000, and has markedly declined from an estimated population of about 9,000 some 70 years ago. In 2017, almost one elephant was poached per week, according to WWF-Myanmar.