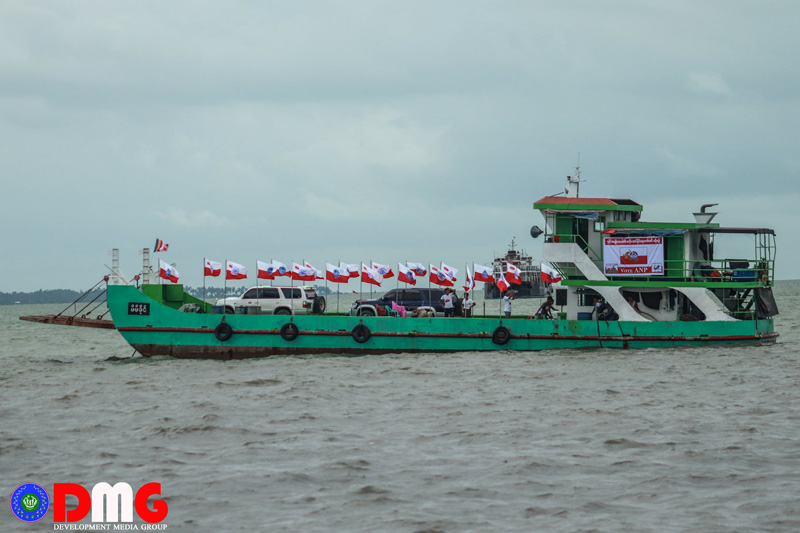 Myo Myint Zaw | DMG
27 October 2020, Thandwe 
Boat-borne canvassers for the Arakan National Party (ANP) who arrived in Thandwe Township, Arakan State, on October 27 had to cancel a planned campaign stop because the watercraft was not allowed to dock, with authorities citing COVID-19 restrictions.  
On Tuesday evening, the boat was prevented from tying up by the township-level COVID-19 Control and Emergency Response Committee and local authorities. Onshore entertainment and campaign activities by the electioneering contingent were also cancelled as locals were not allowed to gather, said officials from the ANP.
"We planned to enjoy entertainment performed by the campaign group from the shore because the ship was not allowed by local authorities to dock at the jetty, and then all the plans were cancelled due to the COVID-19 pandemic," said U Kyaw Than, chair of the ANP's Jadetaw Ward chapter in Thandwe Township. 
The Z-craft boat chartered by the ANP's victory committee is currently moored about 2 nautical miles from Jadetaw Jetty, according to the ANP. 
The group left Sittwe on October 24, arriving in Arakan State's Gwa Township on October 26. It has plans to canvass for votes in the southern townships of Arakan State over the coming days.
With transportation and campaign activities currently restricted due to COVID-19, the ANP victory committee stumped and offered entertainment aboard the Z-craft on Monday to a crowd gathered on shore in Gwa Township. 
"One side needs to be disciplined and the other side should not be barred from campaigning amid the virus," said U Tin Nyo, the ANP's Amyotha Hluttaw candidate in Gwa.
Three ANP candidates competing in the upcoming election for Thandwe Township seats have signed agreements stating that they will be prosecuted if they do not comply with COVID-19 restrictions. 
"We prevented the Z-craft from docking in accordance with the COVID-19 Control Committee. If the ship docks, members of the electioneering contingent will have contact with people on shore," said Thandwe Township administrator U Kyaw Hsan Kyaw.
The Ministry of Health and Sports has announced that it will make an Election Day exception in areas where coronavirus stay-at-home orders are in effect, allowing the gathering of more than 30 people for voting purposes. Since August, the ministry has banned large gatherings as part of efforts to contain the spread of COVID-19. 
The general election is scheduled for November 8, though most of northern Arakan State will not be allowed to vote due to ongoing conflict between the military and the Arakan Army in the region.