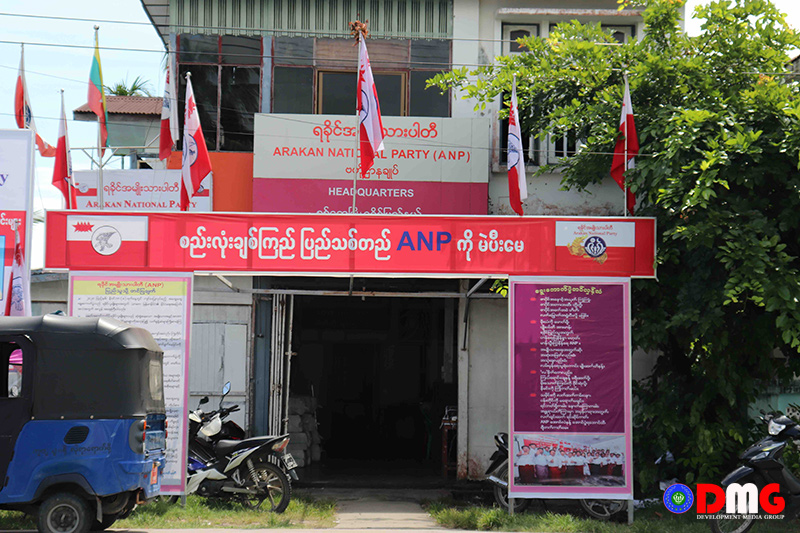 Min Tun | DMG
2 November 2020, Sittwe

The Union Election Commission's cancellation of elections in the majority of Arakan State's townships has been described by the Arakan National Party (ANP) as an intentional attempt to limit the party's electoral success.

In a statement on November 1, the ANP denounced the UEC decision ruling out voting in nine Arakan State townships in full, as well as several wards and village-tracts across four other townships in the state.

ANP spokesperson Daw Aye Nu Sein said the cancellations were constituencies where her party was most likely to win, adding that denying the vote was a violation of human and citizens' rights.

"We'd like the people to know that it is a violation of human rights and citizens' rights as the places have the potential for the ANP to win. It is also crushing the people's representation, not [allowing elected lawmakers] to be seated in the Hluttaw," she said.

Due to the Arakan State election cancellations, more than 1 million people would lose their voting rights, noted U Tun Aung Kyaw, the ANP's Amyotha Hluttaw candidate for Sittwe Township.

"It is a violation against the rights of other ethnic people and the rights of citizens, and it's discrimination and the crushing of citizens' rights," he said.

The ANP statement urged the Arakan people to support and vote without fail for its candidates on Election Day, November 8.

"The ANP will move forward within the legal framework, in collaboration with other ethnic people, for the emergence of a genuine federal union," Daw Aye Nu Sein said. "Whatever the obstacles in the way, we will proceed with this strong party. So, people are encouraged to vote for us."

Last month the UEC announced that the entirety of Pauktaw, Ponnagyun, Rathedaung, Buthidaung, Maungdaw, Kyauktaw, Minbya, Myebon and Mrauk-U townships were not in a condition to hold elections on November 8, with the commission citing conflict dynamics in the affected areas.

Moreover, two urban wards and 49 village-tracts in Kyaukphyu Township; three wards and 25 village-tracts in Ann Township; four village-tracts in Sittwe Township; and 10 wards and 52 village-tracts in Taungup Township will not hold elections, the UEC has announced.