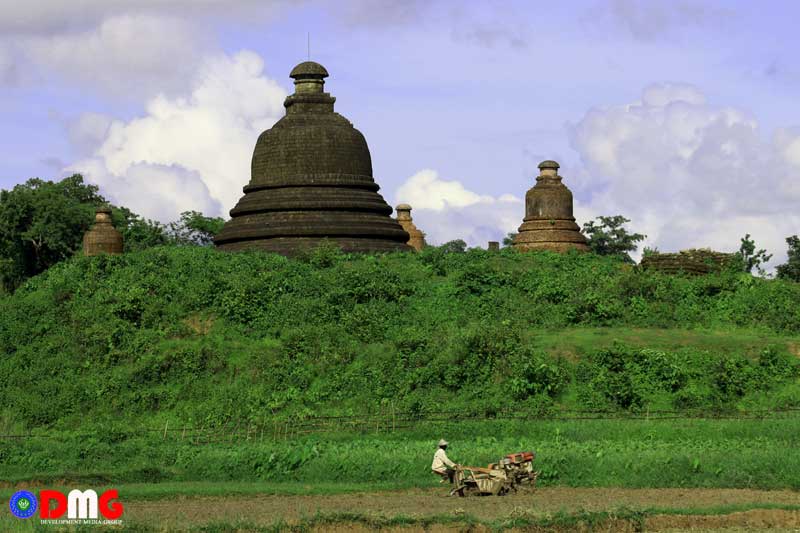 Thet Paing | DMG
4 November, Mrauk-U 
The inclusion of Mrauk-U, an ancient cultural heritage zone in Arakan State, on the UNESCO World Heritage List continues to face delays due to COVID-19, according to Daw Ohnmar Myo, national project officer at UNESCO's Myanmar office.  
Mrauk-U was shortlisted for UNESCO World Heritage status in 2017 and a final proposal was submitted in January 2020. 
A UNESCO team was to visit Mrauk-U in September of this year to verify whether the submission's particulars are in line with requirements for designation as a World Heritage site. But nonessential travel in the region was largely suspended due to the COVID-19 pandemic and the UNESCO inspection team was unable to visit, Daw Ohnmar Myo said. 
"Mrauk-U's listing as a UNESCO World Heritage site will be delayed this year if an inspection team will not be able to visit Mrauk-U. The UNESCO team is unlikely to visit Mrauk-U this year. We have to check whether the ground conditions are in line with what is prescribed in the proposal," she explained. 
The UNESCO proposal is being reviewed remotely as it is not possible to go to Mrauk-U due to the current situation on the ground, said U Soe Soe Lin, director of the Department of Archaeology, National Museum and Library (Mrauk-U branch).     
"Virtual meetings on enlisting Mrauk-U as a UNESCO World Heritage Site were held about five times. We have also made some necessary reviews over the proposal," he added. 
Due to pandemic- and conflict-related limitations, employees from the department have been reporting to the office every two weeks and occasionally conduct field inspections in downtown Mrauk-U, said U Kyaw Zan, deputy director of the Department of Archeology, National Museum and Library's Mrauk-U branch. 
"Due to the COVID-19 pandemic and the security situation in the area, we have to erect awareness signboards and warning signboards in downtown Mrauk-U," the deputy director said. 
Some experts have pointed out that peace and stability are prerequisites for the centuries-old Mrauk-U cultural heritage zone to be inscribed on the UNESCO World Heritage List. Conflict between the Tatmadaw and the Arakan Army in the region has imperiled the bid as cultural heritage highlights such as the ancient temples and pagodas of Mrauk-U have sustained damage during the hostilities.  
There are more than 1,100 UNESCO World Heritage sites globally, with the list administered by the UN agency known in its long-form as the United Nations Educational, Scientific and Cultural Organization.  
Bagan and the Pyu ancient cities are Myanmar's two existing World Heritage listings.