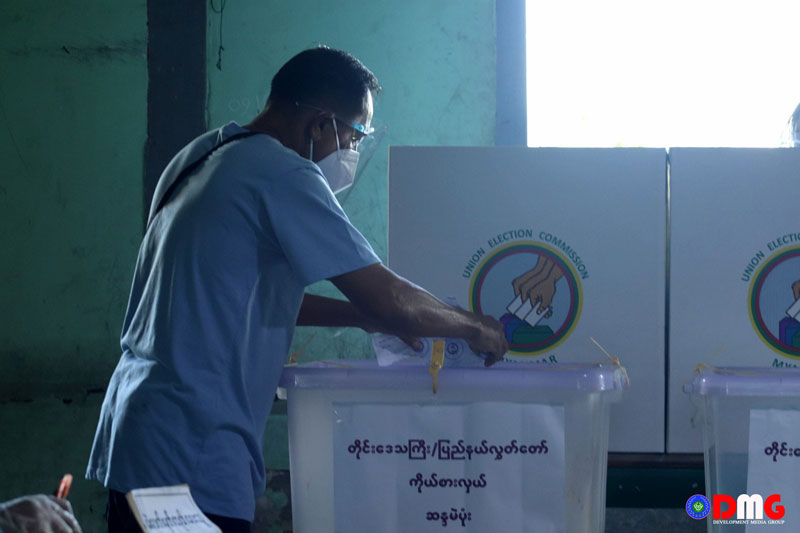 Khin Tharapy Oo & Min Tun | DMG
8 November 2020, Sittwe

Only an estimated 30% of some 10,300 eligible voters in Sittwe's Mingan Ward cast ballots in Sunday's general election, according to representatives of political parties who monitored the polls, with observers also reporting low turnout in Ann Township.

"As people in Arakan State are experiencing many hardships, they apparently have lost their will to cast votes. Not only Mingan, but also other polling stations reported low voter turnout," said U Aung Mra Kyaw, an Arakan National Party (ANP) candidate in Sittwe. "Locals have lost interest in the election because of the fighting, COVID-19 and poverty, I guess."

Voter turnout on Sunday was noticeably lower than the 2015 election, said Ko Aung Naing of the Arakan Election Monitoring and Observation Consortium.

"People in Sittwe have little interest in this election though they actively voted in 2015. I am not sure whether it is because of COVID-19 or they have lost trust in the election," he said.

Sixteen candidates from four political parties — the ANP, Arakan Front Party (AFP), National League for Democracy (NLD) and Union Solidarity Development Party (USDP) — and an independent candidate contested seats in Sittwe Township, with voting results due to be counted after 4 p.m.

Meanwhile candidates in Ann Township, Arakan State, have expressed concern as voter turnout there too was low as of 3:30 p.m. on Sunday, with the polls set to close at 4:00: Only 600 voters had cast ballots although there are more than 2,000 eligible voters in Ward 3 of Ann Township, according to U Tun Tun Naing, an ANP candidate contesting the Ann Township seat in Parliament's Lower House.

"The low turnout in the election was due to strict regulations for the COVID-19 pandemic. One of our concerns is that even if we enter the polling station at four o'clock, people will have to enter en masse. I don't know how the Department of Health will arrange it," said U Soe Thein, a candidate running for a seat in the Arakan State parliament representing Ann Township.

At 3:30, polling station officials were using loudspeakers to advise voters to enter the polling station to prevent them from losing their right to vote, he added.

Similarly, only 400 people cast ballots at a polling station at the No. 4 school in Ann by 2 p.m., although there were more than 1,200 eligible voters, said U Khaing Kaung San, a member of the Arakan Election Monitoring and Observation Consortium.

"At the four polling stations in Ann Township we visited, there were few voters," he said.

At the Sangyi polling station, which has more than 1,000 eligible voters, there were about 400 people who did not cast their ballots by 2 p.m., according to the Arakan Election Monitoring and Observation Consortium.

There are a total of 26 polling stations and 22,945 eligible voters in the four wards and eight village-tracts of Ann Township that were able to hold elections on Sunday, with the Union Election Commission ruling out voting in three wards and 25 village-tracts in Ann.

Candidates from the ANP, ALD, AFP, NLD, USDP and some independent candidates are contesting seats in the Lower House and the Arakan State legislature representing Ann Township.