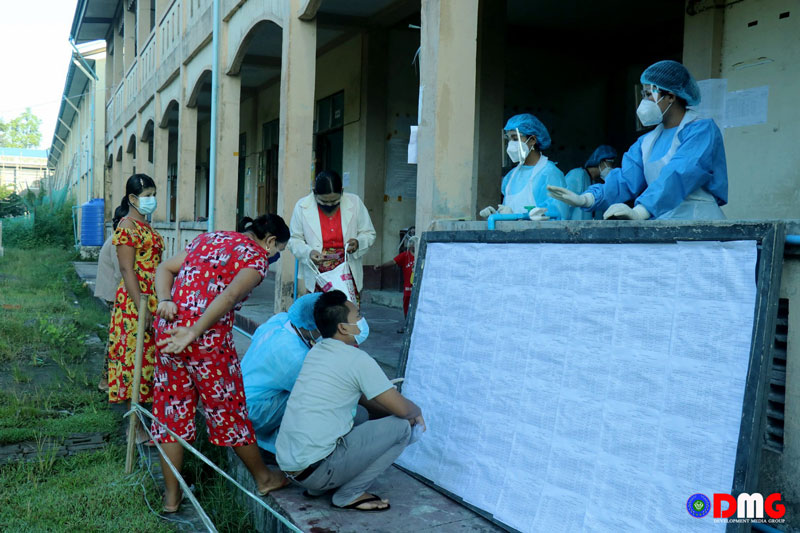 Khin Tharaphy Oo & Aung Htein | DMG
8 November 2020, Sittwe

About 160 people were unable to vote in Sunday's general election because their names were not included on the voter lists for seven polling stations in Sittwe Township's Mingan Ward, according to political parties' representatives at the respective polling locations.

U Tun San, a former administrator of Mingan's Block 9, was among those unable to cast a ballot.

"I am not satisfied with the event because all citizens have a right to cast votes," he said, noting that he had previously served in an official local administrative role and was nonetheless denied the chance to vote.

Likewise, U Maung Tin Soe from Mingan Block 11 said all his family members were included on the voter list — all except for himself, that is, meaning he too was not allowed to vote on Sunday.

"I had searched for my name on the voter lists three times. I want to cast a vote to express my wishes but missed the chance," he said.

Initial voter lists were released in September and updated rosters were made public in October, with the latter version also released online. Citing the multiple opportunities to have errors or omissions corrected, the township election subcommission said there would be no changes made on Election Day.

U Thit Hsan, secretary of the township election subcommission, said it was the responsibility of each individual voter to ensure, prior to Election Day, that their name was properly listed at their appropriate polling site.

"The voter list cannot be amended or supplemented with more names [on Election Day]," he said. "The law mentions that anyone not enumerated on the voter list shall miss the chance."

A total of 16 candidates from four political parties and one independent contested seats in Sittwe Township for the various parliaments at the state and national level.

Meanwhile, in Taungup Township disenfranchisement reportedly took a different form as some voters' local administrators did not issue them voting cards that, along with national registration cards, needed to be presented on Election Day in order to receive a ballot.

Voters had to return home without casting ballots, though at press time efforts were being made to arrange for their vote. An official from an election monitoring committee in Taungup said the township election commission was working to issue provisional "recommendations" to those people so that they could vote.

"It was due to the weakness of the township election subcommission that the problems happened at the time of voting," said Taungup resident U Maung Maung Thit, vice chairman of the Arakan National Party (ANP) chapter in Natmaw village, Taungup Township.

"We have a nighttime curfew. As the announcement was made only after 9 p.m. that the voters would not be able to vote unless they have recommendation and registration cards, local people dare not go out to get the recommendation. They don't have time to prepare for voting," he said.

U Maung Maung Thit also said there were some who had reached 18 years of age and had voting cards but were unable to vote because they still did not have national registration cards.

Only four urban wards in Taungup town were allowed to hold voting on Sunday in Taungup Township. There were 28 polling stations set up to accommodate 21,952 voters on Election Day.