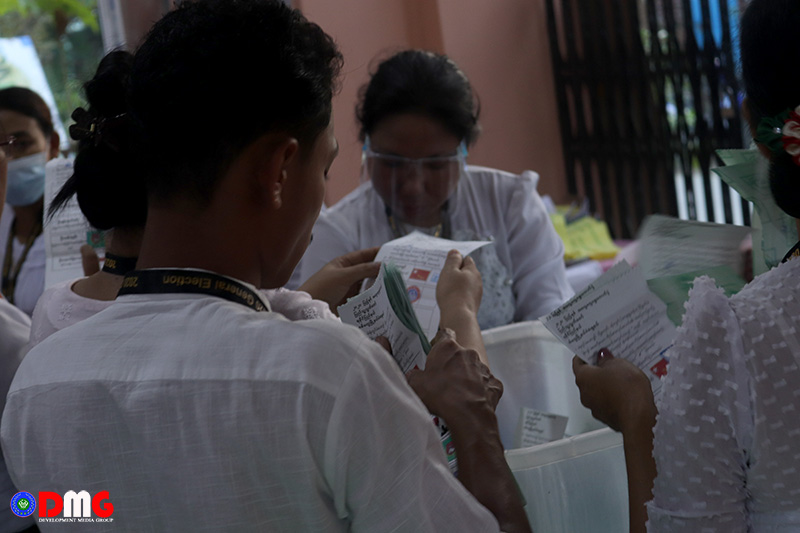 Khin Tharaphy Oo | DMG
11 November 2020, Sittwe

As of Wednesday evening, the Union Election Commission (UEC) had announced the winners of nearly all of the Hluttaw (parliamentary) seats up for grabs in Arakan State in the November 8 general election.

Twenty-six out of 28 elected seats in the Arakan State Hluttaw, Pyithu Hluttaw (Lower House) and Amyotha Hluttaw (Upper House) from Arakan State had been announced up to November 11 at 7 p.m.

These 26 MPs-elect were divided into eight winning Pyithu Hluttaw candidates from Ann, Thandwe, Gwa, Manaung, Kyaukphyu, Taungup, Ramree and Sittwe townships; five Amyotha Hluttaw seats, and 13 Arakan State Hluttaw constituencies as of Wednesday evening.

The ANP has won more than half of all constituencies up for a vote in Arakan State this year, winning 15 of the 28 seats as of Wednesday evening. The breakdown of the ANP seats, by legislative chamber, is four wins in both the Upper and Lower houses of the Union Parliament, and seven Arakan State Hluttaw seats.

The ruling National League for Democracy won six of the 26 seats announced as of November 11 at 7 p.m., and the Arakan Front Party tallied three. The Union Solidarity and Development Party had notched two wins as of Wednesday evening.

UEC member U Myint Naing said at a November 11 news conference that full results would be announced in five to seven days.

"Now, we have announced quite a large number of results. We will finish within one week," U Myint Naing said.

He added that the reason for some races remaining uncalled was that the UEC had not yet received completed vote tabulations from those constituencies.

"We have to announce after compiling all the votes from the winning Hluttaw candidates, the remaining [runners-up] Hluttaw candidates, the number of voters, and deciding the percentage. That is why we cannot announce as we need to calculate these lists and figures. Region and state election subcommissions announced first and only after that we will do for the entire country," he said.

There were only four townships in Arakan State that were able to hold voting in their entireties, and four other townships where elections were held only in some parts. More than 450,000 people cast ballots statewide, but the widespread election cancellations meant over 1.2 million eligible voters were disenfranchised this year.