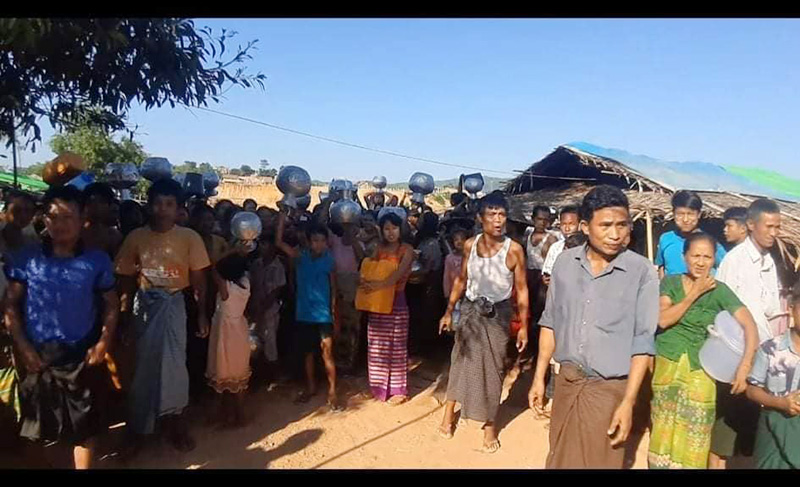 Aung Kaung Zaw & Myo Thiri Kyaw | DMG
12 November 2020, Ann

About 150 internally displaced people (IDPs) taking shelter at the No. 2 IDP camp in Ann Township, Arakan State, are calling on the local government to provide adequate water at the settlement, which is facing a shortage of drinking water.

The IDPs' request comes four days after a fence was built around the pond used as a water source by more than 1,000 IDPs at the camp, said an official from the camp.

"When the owner of the pond fenced it off, there was no place for the IDPs to fetch water and they had difficulty finding water," explained U Phone Kyaw, the camp official.

At present, water is being resupplied from the township municipality to the IDP camp, according to the camp official.

A committee has been set up by the camp residents to dig a pond to improve the camp's water supply, but they have not been able to do so due to financial difficulties, according to camp officials.

An IDP camp in Arakan State's Ponnagyun Township, which houses more than 800 IDPs, is currently facing water shortages due to the construction of a fence around the lake at Yephyukan village, which provides drinking water for the IDPs, said camp in-charge U Maung Aye Chay.

"The IDPs are facing shortages of water due to construction of a fence around the pond. We can make necessary preparations if they notify us in advance," he said.

The IDPs are currently fetching water from a pond in Yepaukchaung village, nearly a kilometre from the IDP camp, according to camp resident Daw Awin Chay.

"It is difficult for us to get water from the pond as we have to pass the fields. I also worry that I will get sick when I go to the pond to fetch water in the hot sun," she added.

There are two lakes in Yephyukan village, which has a population of more than 900 people, and locals may face water shortages in about a month if IDPs continually fetch water from the two ponds, said U Maung Ba San, the village administrator.

The number of IDPs in Arakan State has climbed to over 236,000 due to ongoing clashes between the military and the Arakan Army over the past two years, with IDPs facing numerous and varied hardships.