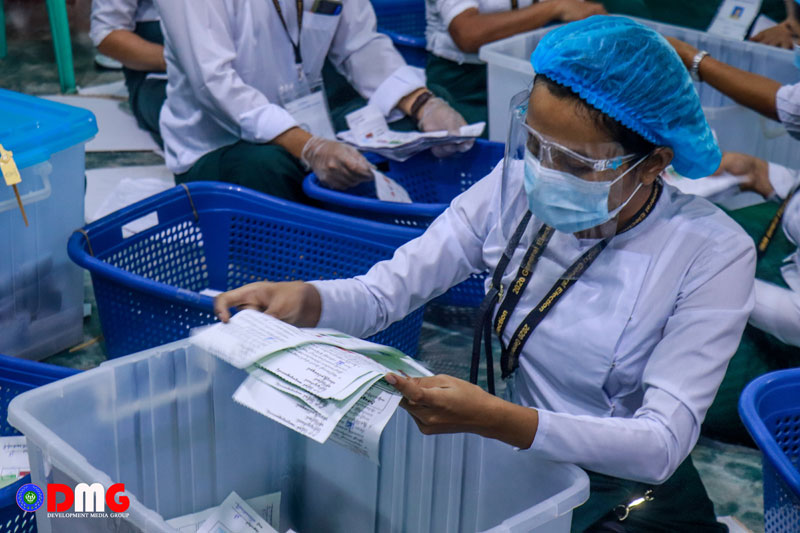 Khin Tharaphy Oo | DMG
12 November 2020, Sittwe 
Sixteen political parties have called for a commission to be formed to review the conduct of the recent general election and its voting outcomes, with the parties saying their proposal is intended to ensure that the 2020 poll was free and fair.   
The political parties are demanding the formation of an independent commission within seven days, to include representatives of contesting political parties, to address allegations of voter fraud, irregularities and election disputes, the parties said on November 11. 
The 16 political parties signing on to the appeal include several that are not expected to win any seats this year, as well as the notably diminished Union Solidarity and Development Party (USDP). The military-backed USDP has seen even less electoral success this year than in its 2015 showing, when it was trounced by the National League for Democracy (NLD), losing its ruling party mantle in decisive fashion.
The Arakan State-based Mro National Party was among the 16 political parties calling for a review of the election. It is not projected to win any seats in this year's vote. 
Dr. Nandar Hla Myint, a spokesperson for the USDP, said he was on his way to Nay Pyi Taw and that it was early to comment on this issue, but that the party would elaborate at a forthcoming press conference.   
DMG was unable to reach other political parties signatory to the November 11 statement for comment.  
The proposed independent commission would review several aspects of the electoral process, from voter list maintenance to advance and Election Day balloting, as well as investigating allegations of voter fraud, vote-buying and campaign finance violations, the political parties said. 
They also accused the Union Election Commission (UEC) of failing to deter election misconduct. 
For its part, the UEC this week pushed back against criticisms of its handling of the election. 
"It is just an accusation by a minority of parties. Democracy is about respecting the will of the majority," UEC member U Myint Naing said at a press conference on Wednesday. "There is no evidence that the election was unfair. The elections were conducted freely and fairly. Most parties have accepted and recognised the results, though there were errors in electoral processes."