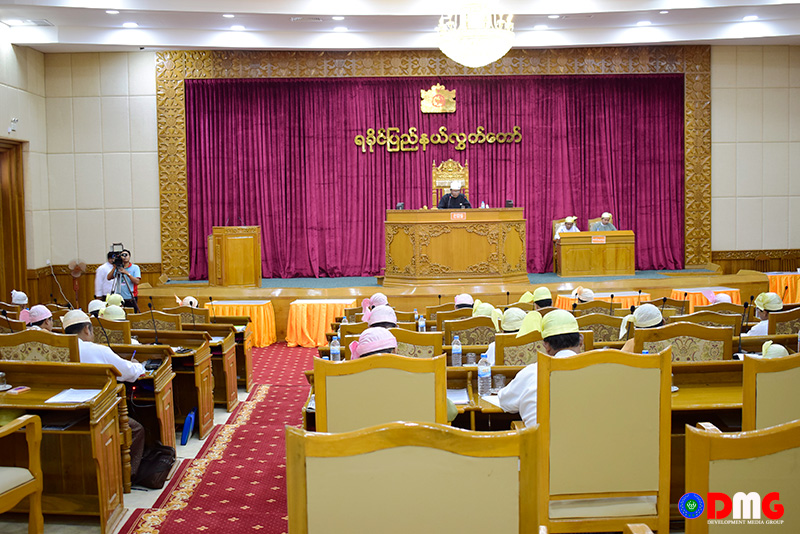 Khin Tharaphy Oo | DMG
14  November 2020, Sittwe

The incoming Arakan State Parliament may be a weaker check and balance on the state government than its predecessors as fewer lawmakers will be seated due to election cancellations across much of the state this year, according to the leader of the Arakan National Party (ANP).

The ANP won the most Arakan State seats in 2020, as was the case in the 2015 general election, but party Chairman U Tha Tun Hla said the institutional power of the legislative body will be diminished when lawmakers are sworn in early next year.

That's a concern because even the relatively more empowered legislative class of 2015-2021 has been constitutionally constrained in significant ways, to the detriment of executive oversight, he said.

"In 2015, 22 lawmakers from the ANP won seats in different constituencies, and since the Arakan State chief minister is accountable to the president, the local Parliament has many weaknesses in controlling the government under the 2008 Constitution," U Tha Tun Hla explained.

"Previously, there were 35 elected legislators and now there are 15 elected lawmakers," he said, adding that the reduced seat total for the ANP "will make it even more difficult to control the government and the subsequent parliamentary environment."

Following the 2015 election, there were 47 MPs in the Arakan State Parliament: 22 lawmakers from the ANP, nine for the National League for Democracy (NLD), three from the Union Solidarity and Development Party (USDP), an independent, and 12 military MPs.

When lawmakers take their seats next year, there will be only 15 elected representatives in the Arakan State legislature, as nine entire townships and several wards and village-tracts in four other townships in the state were not able to vote in the November 8 general election.

The MPs-elect are from the ANP (seven), NLD (five), Arakan Front Party (two) and USDP (one).

Due to the reduced tally of lawmakers who represent constituents, Arakan State's legislative arena might be "distorted," U Tha Tun Hla warned.

"We may face more difficulties due to the small number of people's representatives in the Arakan State Parliament. The Arakan State legislature has fewer than 50% of the elected lawmakers because the UEC [Union Election Commission] last month cancelled elections ... I think the upcoming Arakan State legislature could become a distorted parliamentary environment," he said.

A total of 79 candidates, from seven parties as well as independents, contested Sunday's elections for 14 seats representing geographic constituencies in Arakan State, as well as the Chin ethnic affairs minister seat, in the state legislature.