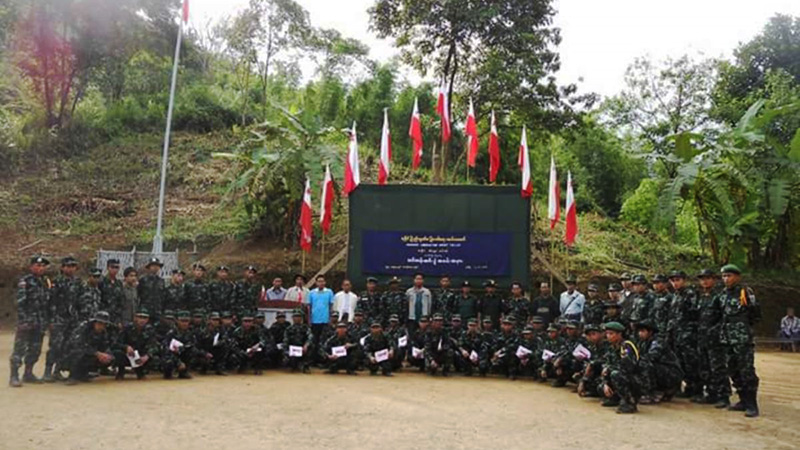 Aung Htein | DMG
16 November 2020, Sittwe 
The Tatmadaw and the Arakan Army (AA) first need a ceasefire to jumpstart the peace process in conflict-plagued Arakan State, according to the Arakan Liberation Party (ALP). 
"Positive" recent statements from both the Tatmadaw and the Arakan Army bode well for the Arakanese people, who have suffered the brunt of a conflict that has left many civilians homeless or otherwise displaced, the ALP said in a November 15 press release.   
"The statements issued by the Tatmadaw and Arakan Army are positive with regard to the peace process. I think the statements contribute to both the Tatmadaw and Arakan Army paving the way for a peace process," Saw Mra Rarzar Linn, a central committee member of the ALP, which is a signatory to Myanmar's Nationwide Ceasefire Agreement (NCA). 
The root causes of the crisis need to be addressed at the negotiating table and should not be addressed by force of arms, Saw Mra Rarzar Linn told DMG.  
The Tatmadaw announced on November 9 that it had formed a committee headed by Lieutenant-General Yar Pyae and four other generals to hold talks with Myanmar's ethnic armed groups. 
The Three Brotherhoods Alliance, which includes the Arakan Army, released a statement two days later, calling on the government to rescind designations of ethnic armed organisations as terrorist groups in order to build trust in the country's peace process. 
While the statements from both sides of the conflict have been broadly welcomed as a potential detente in the long-running hostilities, political parties and analysts say their words must be backed by actions.  
The conflict will enter its unofficial third year next month, with the hostilities resulting in more than 236,000 internally displaced people (IDPs) and hundreds of civilian casualties. 
"We dare not live in our own village," said U Shwe Kyaw Win, an IDP from Seinhnyinwa village in Paletwa Township, Chin State, which borders Arakan State and has endured spillover from the conflict.  
"We are taking shelter at the IDP camp and facing livelihood hardships such as food and accommodation. I want both the Tatmadaw and the Arakan Army to negotiate and start the peace process. Only through peace talks between the Tatmadaw and the AA will we be able to overcome these difficulties."