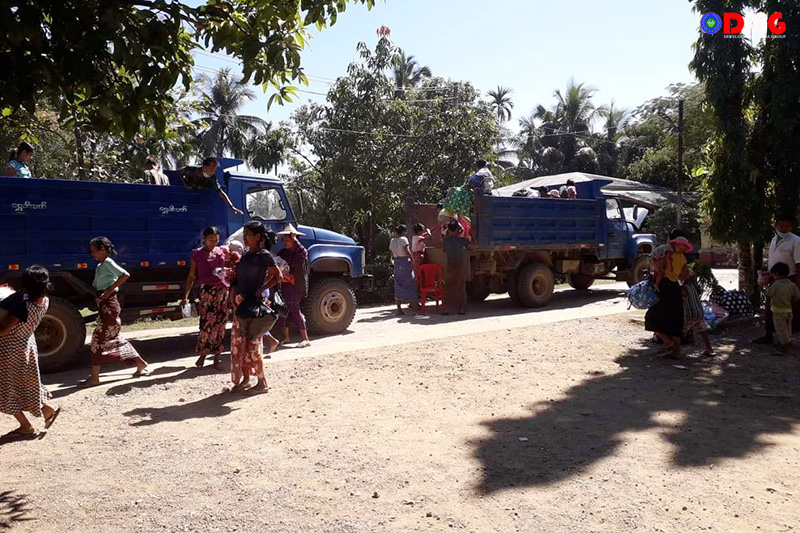 Myo Thiri Kyaw | DMG
19 November 2020, Sittwe 
Some 4,000 internally displaced people (IDPs) sheltering at IDP camps in some Arakan State townships have reportedly returned to their homes this month to harvest monsoon paddy as fighting between the Tatmadaw and the Arakan Army (AA) has eased. 
The IDPs have journeyed home for the harvest partly due to lack of food and accommodation at the displacement camps, but also spurred a reduction in fighting this month and fewer arrests by the Tatmadaw in their villages, they said. 
More than 2,000 IDPs from villages such as Zaichaung, Thaingchaung, Lingway, Kyaukpyauk and Saichone, who had fled to downtown Kyaukphyu, have returned to their homes, said Mya Phone Mo, who assists IDPs. 
"They returned home to harvest the ripe paddy. No more arrests have been made after the recent election. The IDPs came back home as there are no security personnel in their villages, where peace and stability have been restored," he added.   
More than 1,500 people at Kyet Yoe Set IDP camp in Rathedaung Township returned to their villages on November 15 to rejoin the fishery business and harvest monsoon paddy, said U Than Tun Win, a camp official. 
About 30 homes were destroyed and some household items were lost when heavy weapons fire landed and exploded in Kanpyin village earlier this year, said U Maung Tun Sein, who took refuge at Kyet Yoe Set IDP camp. 
"I returned home because it was not convenient for me to take shelter in an IDP camp. There is a financial problem to repair damaged houses," he said. 
He added that even though he was again living in his own village, he felt he was in danger of being shot at by a naval vessel sailing along the nearby river. But no gunfire had yet been heard since returning, he said. 
About 200 IDPs at the Yaypaikson relief camp in Rathedaung Township returned to work in the fishing industry in their villages, but they are worried about their safety, said Ko Aung Naing, the in-charge of the camp. 
"They went to see the situation in their villages as the situation in their villages has stabilised. If everything is OK, they all will come back home. Some returnees are concerned for their safety," he said.  
The number of IDPs in Arakan State has climbed to more than 236,000 due to the conflict between the military and the Arakan Army over the past two years, with IDPs facing numerous and varied hardships.
Fighting in Arakan and Chin states appears to have eased after the Arakan Army issued a statement last week urging the government and Tatmadaw to hold by-elections before the end of December in townships where the general election was not held on November 8, according to parliamentarians and local residents.