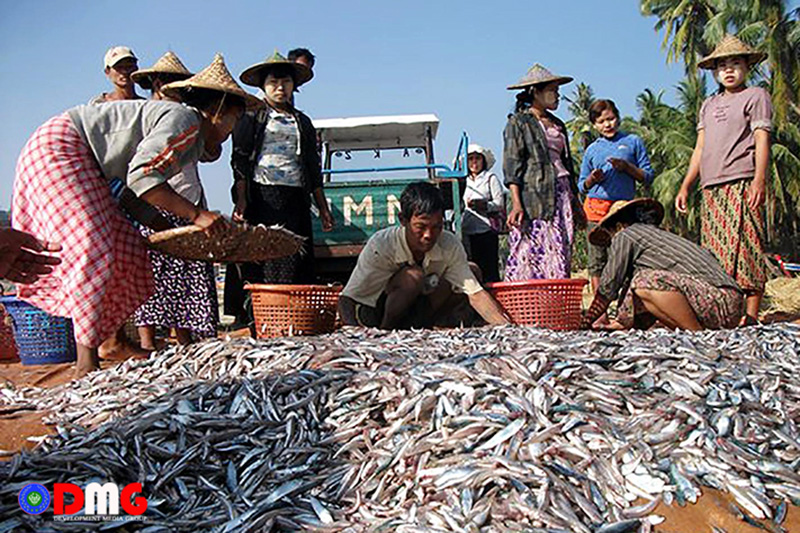 Thiha | DMG
21 November 2020, Sittwe
Myanmar's Fisheries Department has warned of the need to better protect marine resources along the Arakan State coast, which has been assessed as the resource-poorest of the country's three coastal regions.

According to field surveys, the fisheries resources in the Arakan coastal area are currently 40% lower than Myanmar's other coastal regions, Deputy Director Dr Thein Tun of the Fisheries Department told DMG.

"According to research conducted in 2012, 2015 and 2018, if surface and deepwater fish in other coastal areas is 10 visses [for example], there is only six visses of fish in Arakan," he said.

"So, the marine resources in the Arakan coastal area are the lowest. I think the state government should draw up projects properly and implement," he said.

Mangrove deforestation along the Arakan coast in the 1990s, excessive farming of prawns, salt production, and small boats employing drift fishing methods near shore have interfered in the spawning grounds of small fish and are causes of marine resource depletion, said U Thein Tun.

"The Arakan coastal area is a very good place by nature. People have been doing things recklessly. Initially, [the detrimental effects] were not significant. But now, marine resources are getting scarce," said Ko Maung Maung Than, who is involved in the fishing business in Kyaukphyu Township.

"Small boats are presently catching fish by drifting, we heard," he said.

"Currently, the catch has dropped compared with before. The fish species that we got in abundance in the past are now becoming rare," said Ko Maung Maung Than.

Another fishery businessman from Ramree Township said he too had noticed that fish once caught in abundance are increasingly uncommon.

The Wildlife Conservation Society's Deputy Country Program Director for Myanmar, U Kyaw Thin Latt, said one effort to rehabilitate the Arakan coast's marine resources consisted of establishing near-coastal management areas where fish spawn.

"The present Kyeintali area has been declared as a near-coastal cooperation management area by the Fisheries Department. The area is about the size of Singapore," he said.

"Groups have been formed in that area and some places have been designated not to catch fish at all, and there are some places where fishing can be done seasonally. They also have systems for far away coastal fishermen not to enter these areas. They have started doing things like that."

According to surveys made in 2013, 2015 and 2018, Myanmar's shallow water fish resources had dropped by 90% over the past 30 years, while deepwater marine resources fell by 60% over that same period, the Fisheries Department said.