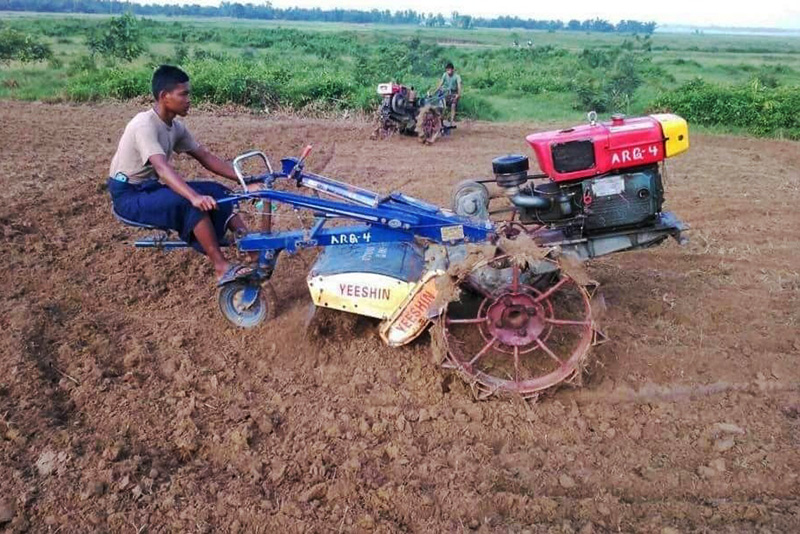 Nyan Hein | DMG
23 November 2020, Sittwe

The Arakan Rakkhita Group (ARG) has offered to provide free ploughing services if internally displaced people (IDPs) in Arakan State's Sittwe Township would like to grow winter crops.

"If they [IDPs] ask us, we are ready to do it. However, there is no one who has sought help from us," said U Saw Lwin, the ploughing service in-charge of the ARG.

"We are offering this service as the IDPs have no idea when they can come back to their fields and their homes. We just want to help them in a way," he told DMG.

The ARG has offered to help if they are asked by IDPs in other townships as well, the civil society group said.

U Thuganda of the Bitar Yarma Monastery in Sittwe said authorities should not only help plough the fields of IDPs, but also should provide assistance securing land plots on which to grow crops.

Currently, the Alodawpyae Monastery in Sittwe has sought help from the Arakan State government's Municipal Affairs minister to obtain land plots for agriculture purposes, said the camp in-charge, U Tun Aung Kyaw.

"As we got the offer for free ploughing, we discussed this with the Sayadaw [monk] to get land in the camp area. The number of IDPs has been increasing. We have to spend K30,000 to buy curry for them daily," he said.

There are more than 500 IDPs at the Alodawpyae Monastery camp, with the inhabitants having fled from some 20 at risk villages in the region.

DMG attempted to contact Arakan State Municipal Affairs Minister U Win Myint for comment on what kind of arrangements the ministry had made, if any, on the land acquisition front and related IDP issues, but he could not be reached.

According to the Rakhine Ethnics Congress, the number of IDPs in Arakan State has climbed past 236,000 due to ongoing clashes between the military and the Arakan Army over the past two years, with IDPs facing numerous and varied hardships.