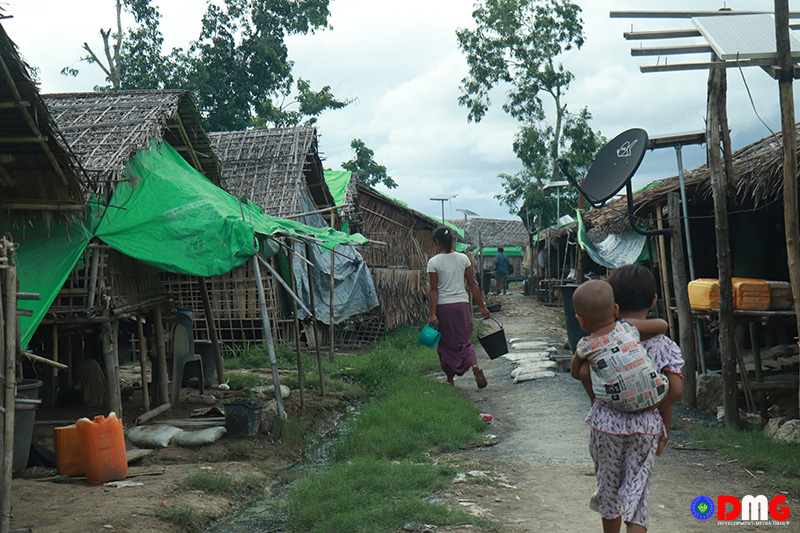 Myo Thiri Kyaw | DMG
1December 2020, Sittwe
As dozens of civilians have been arrested over recent months in Arakan State on suspicion of having ties to the Arakan Army (AA), some described as breadwinners have seen their families struggle financially in their absence.
The Arakan Army, an ethnic armed organisation engaged in active fighting with the Myanmar military in Arakan State, was labeled a terrorist group by both the government and the Tatmadaw in March even as local populations have expressed ambivalence or outright support for the group and its stated aims.
After Daw Hla Nu Tin — who had been living at a displacement (IDP) camp in Mrauk-U — was arrested and charged under Myanmar's Counter-Terrorism Law on November 6, her parents, both of whom are in their 70s, had to move into an acquaintance's house, said Daw Hla Nu Tin's niece Aye Mone Chay.
"Since my aunt was arrested, my grandparents have moved to an acquaintance's house because they have concerns staying at the displacement camp. My grandparents are too old to work and they have had to rely on my aunt. They can't even visit my aunt because they have no money," said Aye Mone Chay.
Daw Hla Nu Tin is being detained at Sittwe Prison in the Arakan State capital and her parents cannot afford to travel from Mrauk-U to there, she said.
In another case, Daw Hla Hla Chay from a displacement camp in Kyauktaw Township's Nyaungchaung village said she has had to borrow money from others at the camp to attend the trial of her husband, who is detained and facing charges in Sittwe.
"My husband was arrested just before I gave birth. And I had trouble making ends meet on my own. I have had to ask for financial assistance from the camp to attend the trial once a month," she said.
A native of Thazi village in Kyauktaw Township, Daw Hla Hla Chay is currently staying at the IDP camp in Nyaungchaung village with two children — one 5-year-old and another just six months old.
People arrested on suspicion of having ties to the Arakan Army are often tried at courts in Sittwe and other townships that are considered relatively stable, with poor families from more far-flung parts of the state therefore having difficulties visiting their detained kin.
"Because trials go on for a long time, family members have run into financial hardship. Some of them have not been able to attend trials regularly because they have no money to travel from Mrauk-U to Sittwe," said Ko Zaw Tun from Mrauk-U, who is assisting area IDPs.
Dozens of people have been detained "on suspicion" in the past six months alone, as the conflict between the Tatmadaw and the Arakan Army enters its unofficial third year in the coming weeks.