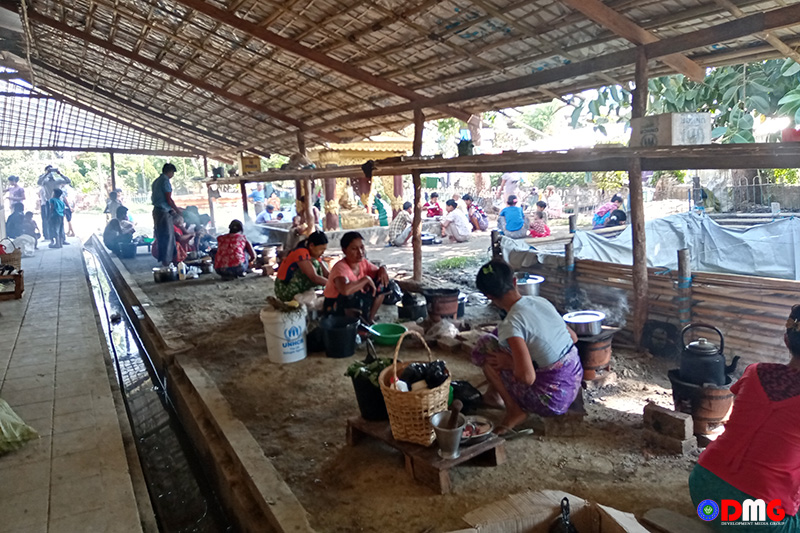 Kyaw Thu Htay | DMG
1 December 2020, Sittwe 
The Tatmadaw will suspend military operations for another month, through December 31, except in areas where terrorist groups take positions, the Tatmadaw True News Information Team said in a statement, offering much the same olive branch as previous unilateral ceasefire extensions, which notably excludes much of Arakan State. 
The ceasefire exception does appear to apply to Arakan State and Chin State's Paletwa Township, where the terrorist-designated Arakan Army is operational. 
But unlike the circumstances surrounding previous ceasefire extensions, the Tatmadaw has said there have been no clashes between the Tatmadaw and the Arakan Army in Arakan State since the November 8 general election. 
As a result, some internally displaced people (IDPs) who once fled fighting are considering returning to their homes, according to IDPs taking shelter in the state capital Sittwe.
Because the Tatmadaw hasn't included Arakan State in its ceasefire, fighting will continue and it will not be possible to return home, said Daw Aye Than Nu, a resident of Kyaukyan Thazi village in Rathedaung Township. 
"We are happy that we will be returning home soon as there is no fighting for the time being. If Arakan State is not included in the Tatmadaw's ceasefire declaration, it will be difficult for us to return home," she added.  
IDPs are worried that if they return home, they will have to flee again, said U Thar Tun, another resident of Kyaukyan Thazi village. 
"We had to leave our homeland amid various hardships and took refuge in the IDP camps. It is not easy for Arakanese people to return to a safe place if there is another clash because the Tatmadaw does not include Arakan State in the current ceasefire declaration," he said.   
Last month, some IDPs returned to their homes amid reduced tensions and the absence of clashes between the Tatmadaw and the AA in Arakan State. IDPs have said they hope the lull in the conflict presages a more lasting peace. 
The Three Brotherhood Alliance, which includes the Arakan Army, has urged the Myanmar government to withdraw its declarations of ethnic armed organisations as terrorist groups and unlawful associations in order to build trust in the country's peace process. 
The number of IDPs in Arakan State climbed to more than 236,000 last month due to the conflict between the Tatmadaw and the Arakan Army over the past two years, with IDPs facing numerous and varied hardships.