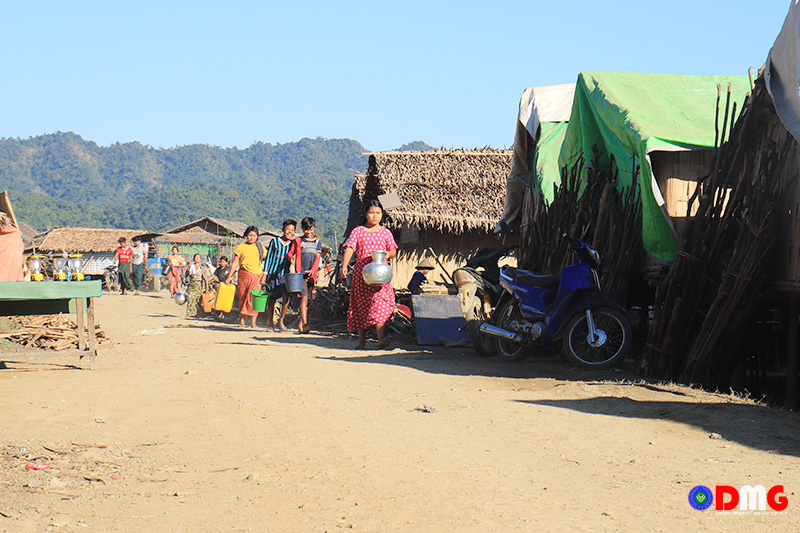 Myo Thiri Kyaw | DMG
2 December 2020, Sittwe 
The Arakan State government is collecting a list of internally displaced people (IDPs) in the state to help arrange for safe returns to their places of origin as there have been no reports of clashes since Myanmar's November 8 general election, according to the state government. 
"Currently, there are IDPs who have returned to their home places. In order to solve the difficulties of those who cannot return to their homes, the state government has been collecting a list of those IDPs for one week through the respective township administrators," said U Win Myint, the Arakan State government's spokesperson, who is also the state minister for Municipal Affairs. 
U Win Myint also told DMG that if IDPs could return to their homes in a peaceful near-future devoid of armed conflict, the state government would then move on to rehabilitation and development works for the people.  
Although many IDPs would like to return to their villages, there are those who find it difficult to go back for a variety of reasons including, for some, the fact that their houses were burnt down during the conflict.   
About 200 houses in Lekka village, Mrauk-U Township, were burnt to the ground in May. 
"My house was included in the houses that were burnt down. It was not long after I built the house. Where am I going to live?" asked a former resident of Lekka village, Ma Aye Hmone Chay. 
U Win Myint noted that the struggles of IDPs are varied, not uniform. 
"Some people had their houses burnt down. So, we are not saying we will be giving this to this person and nothing will be provided to certain people. We will be rendering assistance to whoever is deserving," he said. 
U Oo Thein Nu of Rathedaung Township's Pyarpinyin village, who recently returned home to harvest paddy given the region's relative stability of late, said he still worries about a resumption of fighting, troops movements in the area, and the threat of landmines and other unexploded ordnance. 
"Though we are staying in our village, we are constantly worried about when the fighting will resume. Even though we are harvesting paddy, we still are fearful of where landmines could explode. This is what we worry about," he said. 
Though IDPs would like to return to their villages, they are worried to see Tatmadaw columns' movements near their villages, according to Daw Hla Hla Chay of Tharzi village, who is currently staying at Nyaung Chaung IDP camp in Kyauktaw Township. 
"We want to return to our village. However, we are also afraid. My husband has been arrested and is in police lockup. I have an infant. When we go back to our village, we have no job for our livelihood. We are totally insecure," she said. 
On November 2, the Rakhine Ethnics Congress reported that the number of IDPs in Arakan State had surpassed 236,000 due to nearly two years of fighting between the Tatmadaw and the Arakan Army.