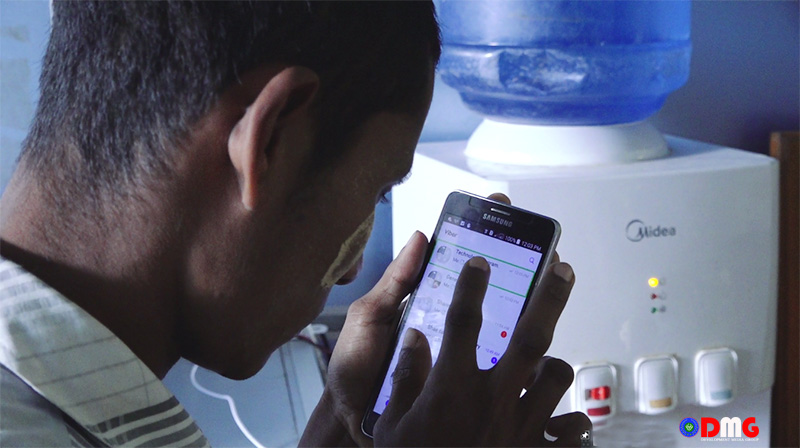 Nyan Hein | DMG
2 December 2020, Sittwe

Visually impaired masseuses and masseurs from the Mettarwadi Education Center for the Blind in Sittwe say they have fallen on hard times as the massage therapy-based income model that they rely on has dried up amid the coronavirus pandemic.

Some students of the Mettarwadi Education Center for the Blind also work in a Japanese-Myanmar massage parlour in the Arakan State capital, and are facing financial hardship due to a lack of visitors during the pandemic, according to Ko Soe Naing, who is visually impaired.

"Many people are struggling to make ends meet during the coronavirus pandemic. Visually impaired people like us face more difficulties in the time of the pandemic. Prior to the current pandemic, I earned about K50,000 a day in massage therapy, but now not even a single person comes here," he told DMG.

The visually impaired massage therapists work at a parlour on a lane off Strand Road in Sittwe's Kyaypingyi Ward, offering Japanese-Myanmar massage techniques for K5,000 per hour.

"We have to donate K3,000 out of K5,000 per person for the Mettarwadi Education Center for the Blind. We have had a hard time since no visitors came since the coronavirus outbreak," said Ko Than Shwe, who is also visually impaired.

U Oo Shwe Thar, chairman of the Mettarwadi Education Center for the Blind, which provides schooling for the disabled, said he currently takes responsibility for food and accommodation for eight of the center's masseuses and masseurs.

According to Myanmar's 2014 census, there were more than 2.3 million people with disabilities nationwide and over 112,000 in Arakan State.