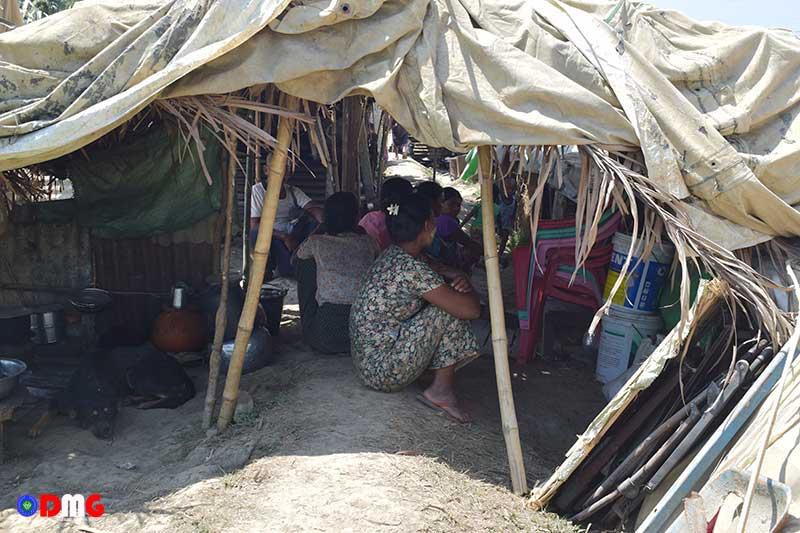 Hnin Nwe  | DMG
4 December 2020, Sittwe 
Recent shootings in Arakan State's Rathedaung Township have forced some local residents to flee back to displacement camps less than a month after they returned to their homes from there.  
With no armed clashes in most of northern Arakan State since the November 8 general election, a number of Arakanese internally displaced people (IDPs) have been venturing home, with many returning for the harvest as prospects for a more permanent peace have appeared to improve in recent weeks. 
However, local residents have more recently reported shooting incidents in Rathedaung Township's Amyet Taung and Yay Soe Chaung villages, which forced some villagers to return to displacement camps.   
"We returned to our homes because we heard that stability had been restored. But we were shot at with small arms so that we could not even harvest paddy. Villagers are almost facing starvation. As we can't harvest paddy, we can only go back to IDP camps. Local residents from nearby villages have also fled for fear of renewed clashes," the administrator of Kyauk Yan Thazi village in Rathedaung Township told DMG. 
Local residents from Yay Boke and Maung Phyu villages, also in Rathedaung Township, have also fled back to camps, worried about possible clashes in future. 
Yay Boke village administrator U Maung Wai Thein said: "As we are hearing gunfire and see military vessels unloading things, locals have fled for fear that fresh clashes would break out. Only farmers were left at the village to see if they'll be able to harvest paddy. Women and elderly persons have already fled." 
The military extended a unilateral ceasefire that it says is in effect across the country until December 31, but the ceasefire excludes Arakan State and Chin State's Paletwa Township, where the Tatmadaw and Arakan Army (AA) have been in conflict since 2018.   
In a statement on Tuesday, the Arakan Army said locals are concerned because the Myanmar military is bringing in food and munitions both by road and waterways daily.  
The Arakan Army on November 12 called on the military to stop attacks in Arakan State, declare a nationwide ceasefire proper and hold elections before December 31 in the numerous Arakan State constituencies where voting in the November 8 general election was canceled for security reasons. Within hours of the statement being issued, the Tatmadaw welcomed the AA's appeal. 
As military tensions have eased between the two sides, the state government said it would arrange for the return of IDPs. However, with recent military movements near villages as well as shootings, IDPs have expressed newfound concerns about returning home. 
U Zaw Zaw Tun, secretary of the Rakhine Ethnics Congress (REC), said: "Villagers temporarily returned to their villages for the paddy harvest after military tensions had eased. They hoped to return permanently as no clashes had taken place. However, as shootings have resurfaced, their hopes for return have faded." 
There were also shootings in Ponnagyun Township on November 29, according to one of the township's Arakan State MPs, U Aung Than Tin. 
"They [the Tatmadaw] shot with small arms from their outposts. No civilians were injured. It appeared that they fired shots for security reasons," he said. 
Maj-Gen Zaw Min Tun of the Tatmadaw True News Information Team was not immediately available for comment on the recent reports of shooting. 
In a statement on December 2, the Arakan Army said that the two sides were working in the interests of local people when, as a first step, the ethnic armed group and military leaders addressed humanitarian concerns and other matters in a 30-minute online discussion last month. 
The AA statement added that the two sides talked about ways to maintain mutual understanding and trust. 
In addition to the direct online communication on November 25, the Tatmadaw and the Arakan Army are negotiating a future face-to-face meeting, according to the ethnic armed group's statement. 
As of November 2, the number of IDPs in Arakan State was reported at more than 236,000 due to the conflict between the Tatmadaw and the Arakan Army over the past two years. But as of December 3, there were some 190,000 IDPs in Arakan State as many IDPs have returned home with stability improving in their areas, according to data compiled by the REC.