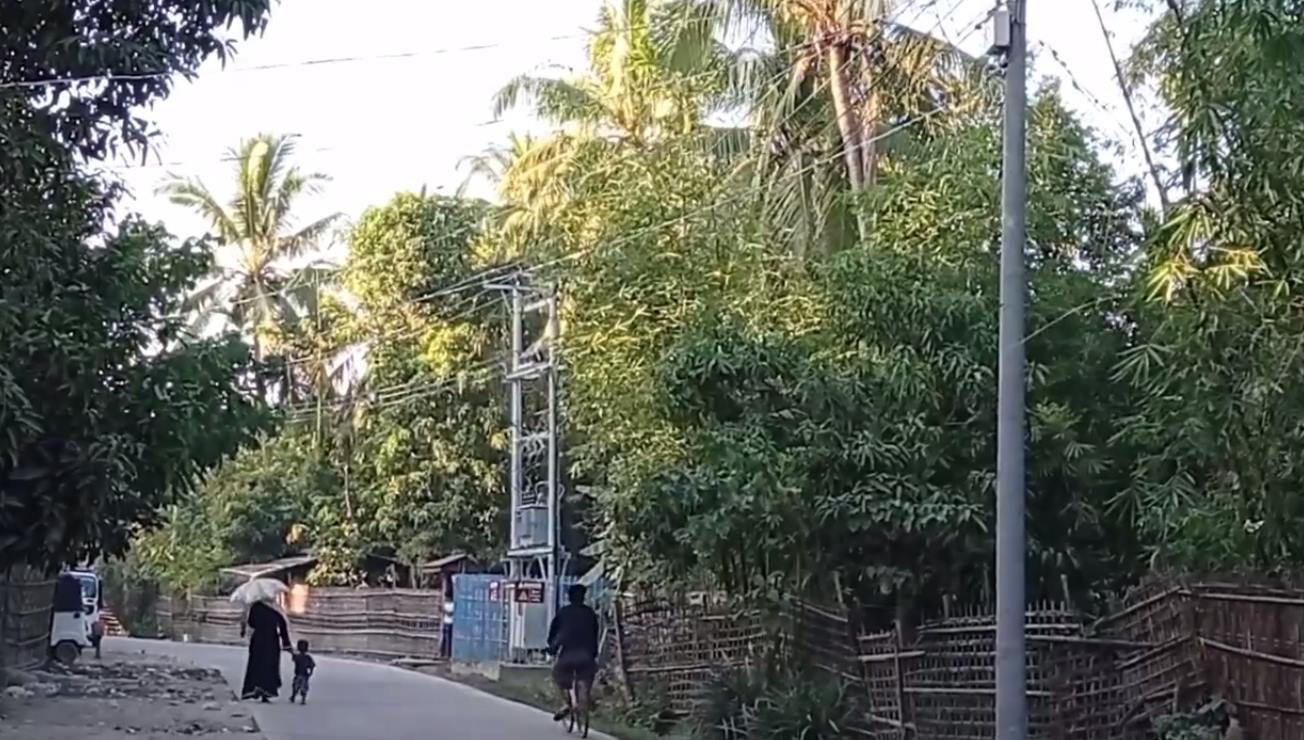 Kyaw Myo Aung | DMG
5 December 2020, Maungdaw
 
Residents of Maungdaw Township's Shwe Sar village-tract have complained about the collection of more than K200,000 as the cost for installing electricity meter boxes for each household, saying the fee is exorbitant.
 
Daw Bi Bi Gyar of Gonnar village said even though she and her neighbours live near power lines, the high cost of meter box installation made it difficult to connect to the electricity grid.
 
"We cannot take a power meter box as we don't have money. The power pole is near. Total cost will be more than K300,000, we heard. They asked K210,000 for a meter box. If the installation fees and material costs are added, it will be more than K300,000," she said.
 
There are 13 villages in the Shwe Sar village-tract, with the villages of Shwe Sar and Gonnar having installed electricity cable lines.
 
One resident who had an electric meter box installed, U Mihamed, said the village in-charge asked K200,000 for the meter box, K10,000 for the application, an installation fee of K45,000 and K5,000 for a switch.
 
"I have had the power line installed for about one week. However, there is still no power. We bought the main cable line from them. One yard cost K1,600," he said.
 
Shwer Sar village has so far had more than 100 meter boxes installed and power will be distributed starting from December 10, following educational talks to residents on the dangers of electric power, according to Maungdaw District's electrical engineering office.
 
"More than 200 electric meter boxes will be given to Shwe Sar village," said U Hein Moe Htet, an engineer at the office.
 
U Hein Moe Htet said the prices for meter boxes were fixed, estimating the fixed cost at K75,000 to K90,000.
 
"There could be some brokerages in between. Our department installs the meter boxes if they have paid. There could be some people who are asking more than the fixed price. We do [installation] if the customer has paid money. The wiring inside the house is to be paid by the landlord. Only staff members who are certified for installation will be allowed," he said.
 
Villagers have accused the Shwe Sar village-tract administrator and village in-charge of fetching much higher prices for the installation of meter boxes.
 
"The applications were made at the ward administrator's office. We will check who has taken any extra amount of money and it will be given back," said Mono Ahmed, the Shwe Sar village-tract in-charge.
 
Up to October, more than 5,200 meter boxes were installed in urban wards and nearby villages in Maungdaw Township, and the power has been distributed, according to figures from Maungdaw District's electrical engineering office.
 
More than 1,650 out of 3,742 villages in Arakan State remain without 24-hour electricity as the current government's term nears its close, according to the state's Electric Power Engineer Office.