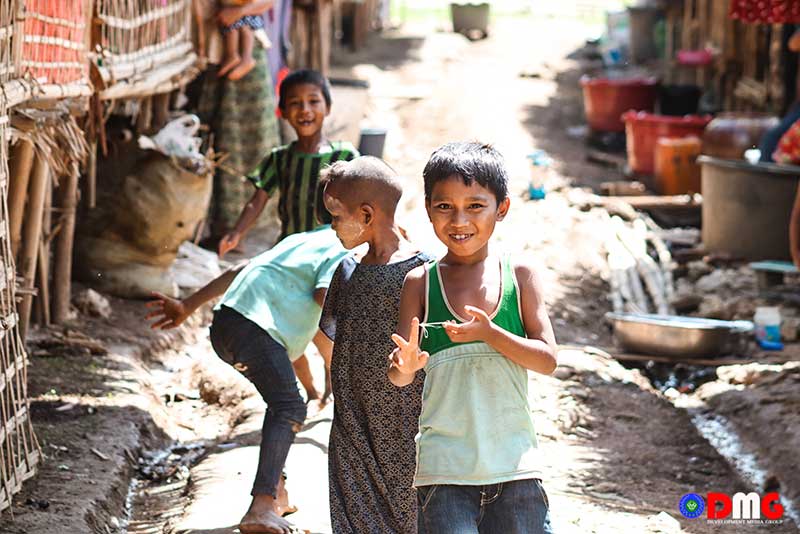 Aung Htein | DMG
7 December 2020, Sittwe 
The rights of minors enshrined in the Child Rights Law are routinely violated in areas of armed conflict across Myanmar including Arakan State, where two years of hostilities have killed scores of civilians and wounded hundreds more, with numerous children among the casualties. 
Child rights advocates note that in addition to an unacceptably high casualty toll, children are facing emotional trauma amid the sounds of shelling and gunfire. Some, displaced by clashes, suffer from malnourishment and do not have access to schooling.  
"When it comes to the education and health of children, things are not OK for them," said Daw Shwe Oo May from Tinma village, who is sheltering at Nyaungchaung IDP camp in Kyauktaw Township. "They are malnourished as they do not have access to proper food. If we were in our own house, we would at least be able to eke out a living and send them to school. But now, we have to rely on food rations supplied by donors. How can we send them to school?"   
The number of children killed or injured by landmines and explosive remnants of war (ERW) in areas of armed conflicts has been rising in Myanmar.  
In the nine-month period from January to September of this year, 13 children were killed and 56 others were seriously injured in landmine blasts and ERW explosions across Myanmar, UNICEF said on November 23. 
Children accounted for 35% of total casualties from landmines and ERW, and the number was highest in Arakan State, at 47%, according to UNICEF. 
Ko Khaing Myo Aung, manager at the Nyaungchaung IDP camp in Kyauktaw Township, said children, who are the foundation of Myanmar's future, are losing their rights in every respect.    
"There is no war that is good. It serves nobody's interests. People, including children, die prematurely because of wars," he said. "Children are invaluable resources for the country and the people. Clashes have hampered children in education and health regards. They can't enjoy a normal childhood, but are forced to stay in displacement camps, facing various troubles." 
Myanmar ratified the UN Convention on the Rights of the Child in 1991. Like other signatory countries, it celebrates World Children's Day annually.  
Myanmar enacted legislation known simply as "The Child Law" in 1993, and adopted rules in 2001. In order to provide more comprehensive protection to children, the country enacted the Child Rights Law on July 23, 2019, repealing the 1993 Child Law in the process. 
"UNICEF urges all parties to the conflict to stop laying mines and to clear existing mines and unexploded ordinance to ensure the safety of children caught up in conflict, and to uphold their right to protection," the UN children's agency said last month.