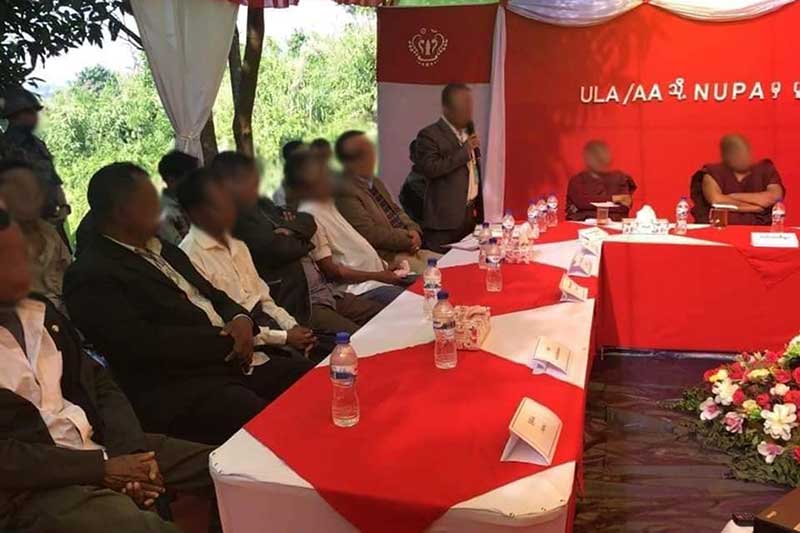 Aung Htein | DMG
13 December 2020, Sittwe 
The National United Party of Arakan (NUPA), led by the prominent revolutionary leader Major-General Khaing Razar until his assassination in 1998, has been disbanded and merged with the United League of Arakan/Arakan Army (ULA/AA), the NUPA announced in a statement on December 12. 
The decision to merge with the ULA/AA was made as some leaders of the NUPA have died and others are in poor health and are unable to move forward politically, said U Soe Lin Tun, spokesperson for the NUPA/AA. 
"We want to shape a new future revolutionary history by disbanding the NUPA once headed by Major-General Khaing Razar, who was famous in the history of the Arakanese Revolution, and joining the Way of Rakhita led by Major-General Twan Mrat Naing," he added, referring to the leader of the Arakan Army (AA) ethnic armed group, of which the ULA is its political wing. 
NUPA Central Committee members and cadres held a meeting on November 11 at the Bangladesh border and agreed to dissolve the NUPA and join the Arakan Army, Saturday's statement said. 
The NUPA was officially dissolved at a meeting of Central Committee members on December 5 and merged with the ULA/AA on December 6, U Soe Lin Tun explained. 
"We are determined to carry out the task of uniting under the leadership of Major-General Twan Mrat Naing at the cost of our lives," he said. 
At its inception in 1994, the NUPA was formed of multiple different nationalist organisations including its forerunner the National United Front of Arakan, and a faction of the Arakanese Communist Party. 
Major-General Khaing Razar came to serve as the commander-in-chief of the NUPA and its armed forces, the original Arakan Army. But six Arakanese and Karen leaders, including Major-General Khaing Razar, were assassinated by the Indian military in the Indian archipelago of Andaman on February 11, 1998, and 36 other Arakanese and Karen cadres were arrested and imprisoned for more than a decade in Indian prisons. 
Since then, the militant and political activities of the NUPA have been increasingly marginal. 
The ULA/AA has not yet announced the dissolution of the NUPA and its attendant merger.