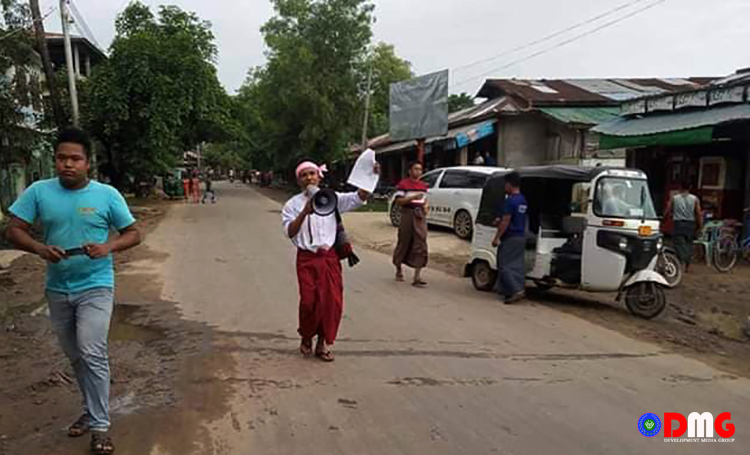 Cha Lu Aung | DMG
8 June, Buthidaung
To end war in Arakan State immediately and find peaceful and agreeable solutions to stabilize the region, Ko Min Thein Zan, representative of Buthidaung Township for Arakan Youth Conference's Policy Making Team, waged a solo protest in Buthidaung Town on 8 June.
Ko Min Thein Zan urged to solve the problems in Arakan State by negotiating between both sides rather than settling discords with bullets and bombs.
"I'd like both the Tatmadaw and the AA to negotiate to resolve the problems in Arakan State, the Tatmadaw should start the dialogues with open minds. I concluded that tackling problems with military muscle in the 21st century is not a good idea because people suffer terribly from the impact of the armed conflict," he said.
He also demanded the Union and State governments to take effective action against people who blatantly breach human rights, to take responsibility for daily lives of IDPs and to allow IDPs to return to their villages and homes so they can lead a normal life.
If the government ignores these demands, new movements will occur in conjunction with CSOs in the township, he insisted.
The number of IDPs has currently reached to 40,000 because of the ongoing armed conflict in Arakan State and civilian casualties and collateral damage has been increasing.