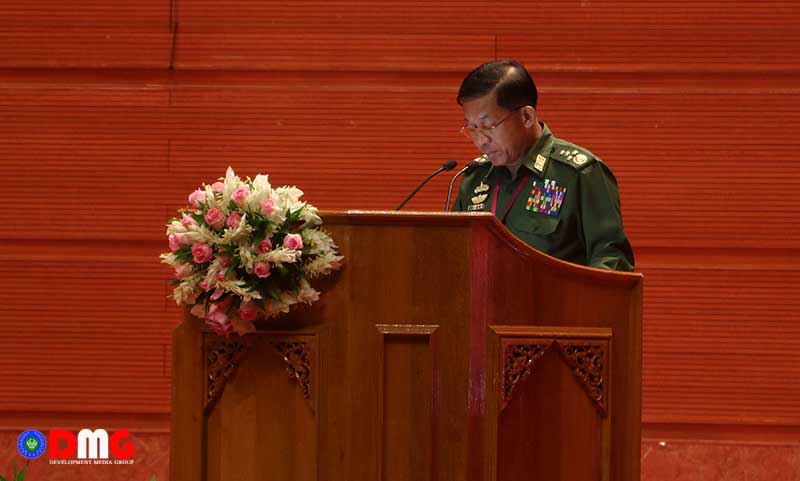 Khin Thraphy Oo | DMG
18 December 2020, Sittwe

Arakanese civil society organisations have accused Myanmar's military chief of intentionally excluding the ethnic Kaman when he enumerated several groups indigenous to Arakan State in a message commemorating Arakan State Day on December 15.

"Our view is that the military chief did it deliberately. The Kaman are one of the Arakanese sub-groups. We view it as sowing discord among the entire Arakanese race," said Ko Than Hla aka Ko Minbar Chay, director of the Arakan Youth Network.

In his message, Senior-General Min Aung Hlaing wrote that the Arakanese (Rakhine), Thet, Daingnet, Mro (Khami) and Maramagyi people live in Arakan State and, regardless of differences in customs, are all national brethren born to the Union.

It was not a slip of the pen that the Kaman were left off the list, nor that the Mro and Khami were described as a single group, alleged the secretary of the Rakhine Ethnics Congress, Ko Zaw Zaw Htun.

"I think it was done deliberately. The Kaman were officially recognised as a sub-group in the era of the Burma Socialist Programme Party. So, does the exclusion mean the military does not recognise Kaman?" he said.

Kaman is one of 135 officially recognised ethnic nationalities in Myanmar, and is the only predominantly Muslim group among the 135.

"In a democratic country seeking national unity, every department or agency must be cautious about their written or oral statements to ensure no exclusion, no discrimination and no emphasising of differences," said U Min Naing, vice chair of the Kaman Social Network.

Ethnic affairs analyst U Maung Maung Soe suggested the omission could simply have come down to human error; an oversight by those who wrote and reviewed the message. He pointed out that the statement also only mentioned three Arakanese dynasties, though there were in fact four.

Arakan National Party (ANP) chair U Tha Tun Hla has called on the military chief to issue a correction to his message.

The Arakan State Day message also drew criticism for incorrectly stating the name of the revered Arakanese Buddhist monk U Ottama, a prominent leader of the independence movement during British colonial rule. (The naming error roughly transliterates as "U Ottamasara".)

The military's Tatmadaw True News Information Team was to post the message again on its Facebook page with the name corrected. However, as of press time it had not been fixed in the message posted on the official website of Snr-Gen Min Aung Hlaing.