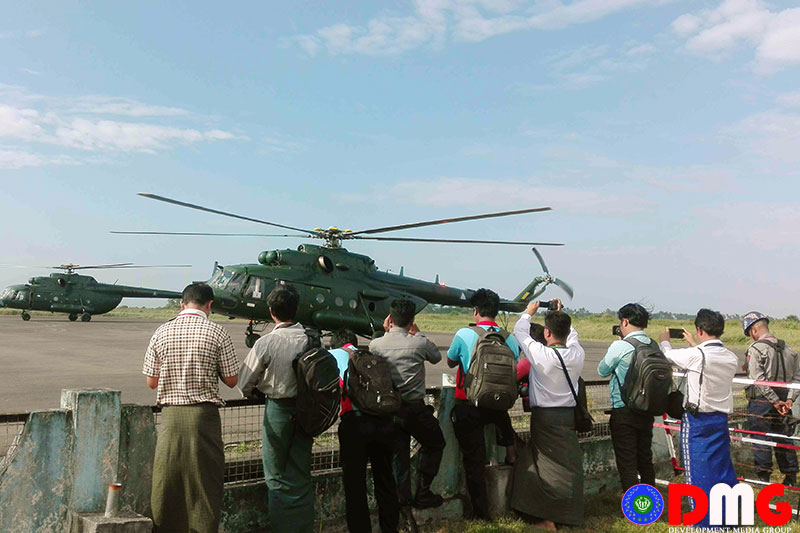 Khin Tharaphy Oo | DMG
21 December 2020, Sittwe

Journalists working for Arakan State-based media outlets say they continue to face challenges when contacting the Tatmadaw for comment on news related to armed conflict in the region, despite persistent outreach efforts in line with media ethics.
Reporters for Western News, Narinjara News Agency and Development Media Group (DMG) in Arakan State said they most often struggle to get official Tatmadaw spokespeople to pick up the phone when called for comment on a story.
"The Tatmadaw never answers my phone calls whenever I attempt to seek comment from a spokesperson," said Ko Aung Soe, a reporter for Western News, noting that a military source was particularly important when reporting on conflict or civilian arrests in Arakan State.
Eain Soe Phyu, a Narinjara reporter, said news outlets needed to provide an opportunity for the Tatmadaw to be heard in any story that includes an allegation involving the military.
"When we report a story, we need the voice of the Tatmadaw if there is an accusation against it. When we cannot contact a spokesperson of the Tatmadaw, we have to write that they could not be reached," she said.
DMG phoned the Tatmadaw True News Information Team for comment on the military's handling of press inquiries, but its representatives could not be reached.
The Tatmadaw does release information related to the military, including on Arakan State affairs, via the Facebook page of the Tatmadaw True News Information Team.
The Myanmar military has been criticised as lacking transparency and offering poor media availability for years, well into democratic transition that began circa 2011. The Tatmadaw True News Information Team has more regularly held news conferences under the National League for Democracy (NLD) government, which took power in 2016.
But news outlets say the Tatmadaw True News Information Team's briefings are not enough to provide a full picture in areas of armed conflict, as has been the case in Arakan State in recent years.
"I think it might be because of the news coverage over the issues happening in Arakan State," said U Myint Kyaw, secretary of the Myanmar Press Council, when asked about the Tatmadaw's inaccessibility for Arakan-based media outlets seeking comment.
"They were barring or telling off journalists when they did not want to give the information to the public. But such information eventually reaches the public," he said. "So, they should not do so."
As a matter of journalistic ethics, the Myanmar Press Council advises reporters to contact both sides, particularly when covering controversial issues, in the course of newsgathering.