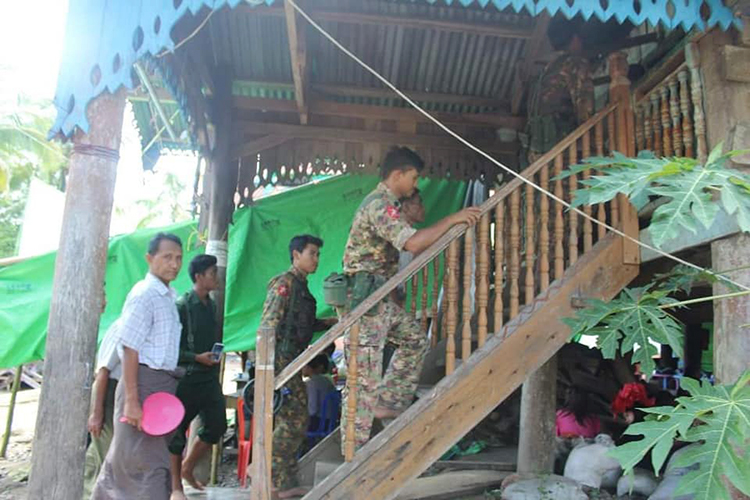 Khaing Roe La | DMG
11 June, Ponnagyun
A military troop with about 50 soldiers has been granted permission to inspect a refugee camp open at the monastery in Ponnagyun Township's Pauk Taw Byin village to see if members of the AA are residing in the camp on 11 June.
On the first day of their arrival at the village, officials of the refugee camps told soldiers they can carry out their inspections wearing civilian clothing, not military uniforms, so the military did not try to force officials of the monastery to let them gain entrance. However, they did not retreat from the village.
"An immigration officer was also part of their group. We don't want to have soldiers in the village now. So, we consulted with the village's senior monks and they allowed them to inspect refugees because we want them to leave village as quickly as possible. If we do not allow them to check the monastery, they will be suspicious of all of us," U Arrekha, an official of the refugee camp, told the DMG.
Five military personnel, two policemen and two immigration staff are allowed to enter the refugee camp to carry out inspections. The joint team did not interview villagers but photographed some people, the monk said.
The check at the camp where more than 600 people are taking shelter was conducted peacefully without any arrests or detentions, it lasted over an hour, U Aung Than Tin, State MP for Ponnagyun Township, told the DMG.
"They took photos of the refugees. They said that they were duty-bound to do it and they would have to report to their superiors," U Aung Than Tin said.
Acting on the tip that members of the AA were staying in the refugee camp posing as villagers after the recent clash near the village, the troop tried to check the camp, said Colonel Win Zaw Oo from the Western Command.
"A few days ago, there had been clashes surrounding Pauk Taw Byin village. After the clashes, our informer said that members of the AA were staying with villagers in nearby villages," Colonel Win Zaw Oo said.
The check was conducted according to the law and military troops were not included in the inspection process, he added.
"A team including police, an immigration officer, an official from Religious Affairs department and villager administrators entered the compound of the monastery to conduct inspections. We asked help from police to check the area because we suspected that there were members of the AA. Our soldiers did not carry out the inspection," he explained.
The Tatmadaw has been checking some Arakanese villages on the suspicion that AA members have been present in some villages. In May, the Tatmadaw did check people from Kyauktan village in Rathedaung Township, seven villagers were killed and at least seven others were injured during interrogations.