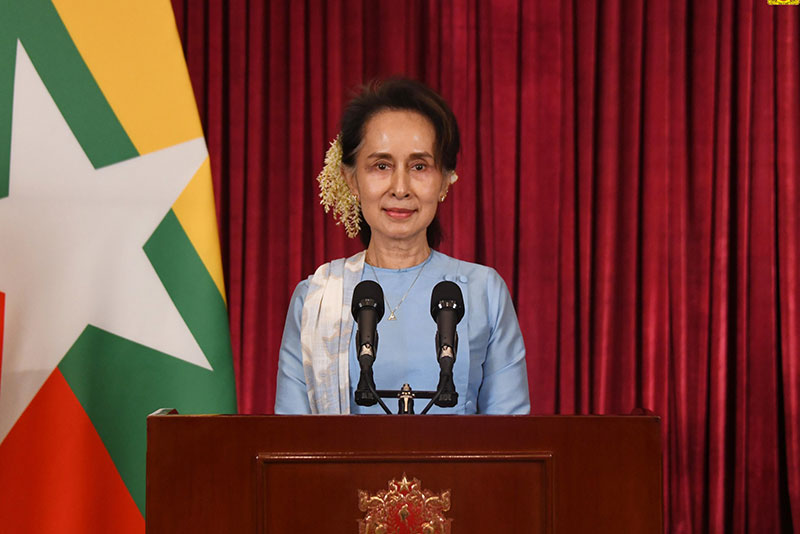 Aung Htein | DMG
2 January 2021, Sittwe 
In her New Year's speech to the nation, State Counsellor Daw Aung San Suu Kyi said she is prepared to take "new approaches" to the inclusion of armed groups that are not signatory to the Nationwide Ceasefire Agreement (NCA) during the next government's five-year term.  
"At this time when we already have the peace roadmap for the post-2020 period clearly in our view, we will implement the post-2020 period peace process with new approaches by exerting our efforts from all angles and points of view so that not only the NCA signatories but also the non-signatories will come on board and cooperate," Daw Aung San Suu Kyi said. 
U Khaing Kaung San, director of the Wan Lark Foundation, said the National League for Democracy (NLD) government has been slow to move forward with the peace process over the past five years. 
"When the Panglong peace conference was held at the Union level in Nay Pyi Taw, there was weak management. At the state and regional levels, there is a lack of freedom to work for peace. I would like to point out that the government's management is weak," he told DMG.  
U Aung Thaung Shwe, the Pyithu Hluttaw lawmaker for Buthidaung Township, said it is important that the next government's peace process emphasises building trust with ethnic minorities. 
"The key to peace is to build mutual trust. Peace cannot be built without mutual trust. Building trust with ethnic groups is more important for the peace process than new negotiations. Not all ethnic groups are included in the new government's invitation to join the peace process. It shows a lack of trust," the MP added. 
The Arakan Army is one of a handful of ethnic armed groups in Myanmar that have yet to sign the NCA. In March of last year, the government and military designated the Arakan Army as a terrorist group.  
Fighting between the Tatmadaw and the Arakan Army had been escalating for much of last year, but in the weeks since the country's November 8 general election, the two sides appear to have reached a détente.  
The Office of the Commander-in-Chief on November 9 announced the formation of a new committee, led by senior military officers, to hold peace talks with ethnic armed groups. At present, the committee is reportedly engaged in discussions with the Arakan Army. 
In another sign of easing tensions, the Arakan Army on January 1 released three NLD candidates that it abducted in mid-October.   
"We have realised that both formal and informal dialogues are pivotal to the peacemaking processes in the post-2020 period," Daw Aung San Suu Kyi said in her speech on Friday. "Similarly, we also recognise the role of public participation. This is related to paving the way for inclusiveness of all the stakeholders."