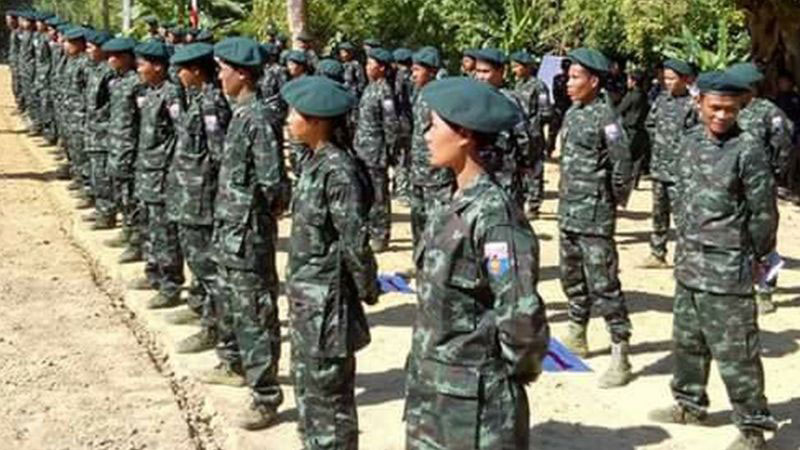 Aung Htein | DMG
2 January 2021, Sittwe 
Four members of the Arakan Liberation Party (ALP) who were detained by the Arakan Army (AA) have been released, according to Khaing Soe Mra, a captain from the ALP. 
Among the freed ALP men, one has been identified as Khaing Win Hlaing, an ALP Arakan State organising committee member from Sarpyin village, Taungup Township, who was reported to have been killed in AA custody last year.  
The other three — Khaing Maung Khin Win, Khaing Maung Lone and Khaing Min Mrat San — were released in the last week of November, while Khaing Win Hlaing was freed on January 1, said Captain Khaing Soe Mra.  
"We have no agreement with the Arakan Army. They were arrested and found guilty. We have not yet questioned them on how they were punished and released," he told DMG. 
The ALP members Khaing Maung Khin Win and Khaing Maung Lone from Yabyatchai village in Pauktaw Township were arrested by the Arakan Army on May 23, and Khaing Win Hlaing from Sarpyin village was detained on May 31, the ALP said in a June statement. 
On June 1, the Facebook page of the National Security Organization (Taungup Township) posted that Khaing Win Hlaing had been killed. It is still unknown who manages that page, but Khaing Win Hlaing was subsequently reported as having been killed by more mainstream news sources including The Irrawaddy. 
Capt. Khaing Soe Mra said the ALP was concerned by those reports, and was relieved that its members are alive and now released. 
"In any case, this should not happen between the two organisations. For example, if the ALP is abusive to the AA, or the AA is abusive to the ALP, it is a good idea to report the incident to each other. Now we are very happy that our members have been released by the Arakan Army," he added. 
Five people, including the ALP joint-secretary, were arrested by the Arakan Army near Myaunggyi village in Ponnagyun Township on August 10 of last year. The Arakan Army released the men — Khaing Aung Soe Than, the ALP joint-secretary, ALP Liaison Office staffer Khaing Htay, Khaing Myo Zan, Khaing Moezat, and Khaing Hein Zaw from the Rakhine Community Health Workers Association — on August 18. 
The ALP is one of eight non-state armed groups that signed the Nationwide Ceasefire Agreement (NCA) with the previous government in October 2015.