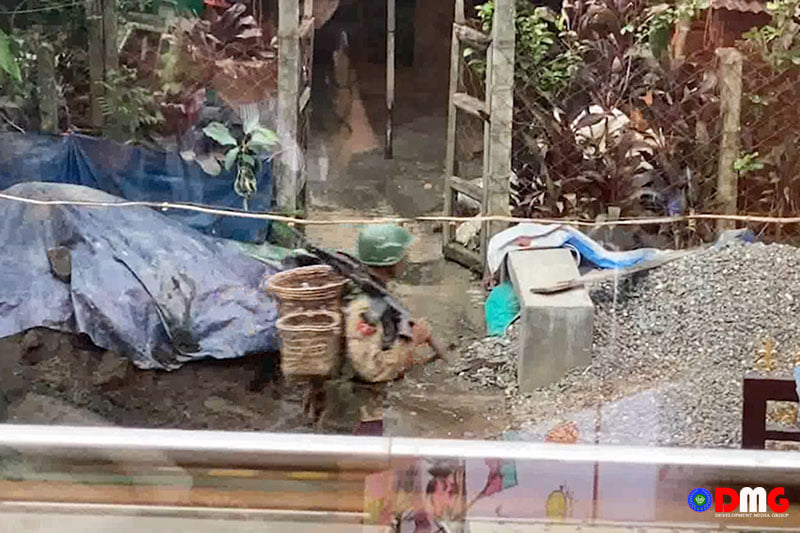 Hnin Nwe | DMG
10 January 2021, Sittwe

Tatmadaw soldiers have been accused of taking 700 baskets of paddy in Marlar (Arakan) village, Kyauktaw Township, while residents there were fleeing the Arakan State conflict.

One resident, who declined to be named, told DMG that troops stationed on Myauktaw Hill near the village loaded the 700 baskets of paddy onto a lorry and ordered locals to grind rice at a mill in Marlar (Mro) village.

"Five or six soldiers from the Tatmadaw came and told me to grind the rice. We can't do anything [to object], so we have to do what they tell us to do. There are two rice mills in the village and when the soldiers come, the mill owners have to grind the paddy on a rotational basis," he said.

Since last year's rainy season, the Tatmadaw has been bringing paddy from Marlar (Arakan) village to the rice mill to grind, he added.

"The owner of the rice mill phoned me saying the paddy from [our] village was there," said U Than Hlaing, a 100-household head in Marlar (Arakan) village. "The owners of the rice mills can do nothing if they are asked to do something by the Tatmadaw. We want to be able to take only the small amount of paddy left by Tatmadaw soldiers. We are currently facing livelihood hardship."

DMG phoned the Arakan State minister for Security and Border Affairs and military spokesman Maj-Gen Zaw Min Tun for comment on allegations related to paddy in the Marlar villages, but they could not be reached.

DMG also contacted U Win Myint, a spokesperson for the Arakan State government as well as the state minister for Municipal Affairs, who said he was unaware of the alleged happenings in Kyauktaw Township.

Since March 2020 residents of Marlar village have been fleeing, typically to Kyauktaw town, due to instability, abandoning their homes and possessions including rice, cattle and agricultural machinery.

Marlar villagers have faced food and shelter shortages at IDPs camps in the subsequent nine-plus months. Many have expressed a desire to recover their abandoned possessions as they struggle to make ends meet, but the presence of Tatmadaw soldiers near the village has made that difficult.

Marlar villagers and aid workers in Kyauktaw sent an appeal to the Arakan State government on December 31 asking that the items left behind be extracted from the village safely.

There has been no response thus far, and an aid worker in Kyauktaw criticised the Tatmadaw for allegedly seizing property during the call for help.

"These are some of the reasons why the villagers want to take their belongings. It is not difficult for the local government to help. If the local government informs the relevant departments and cooperates with them, it will be OK. But so far nothing has been done, so we think the local government is enabling the military to commit more atrocities," said Ko Zaw Win, the aid worker.