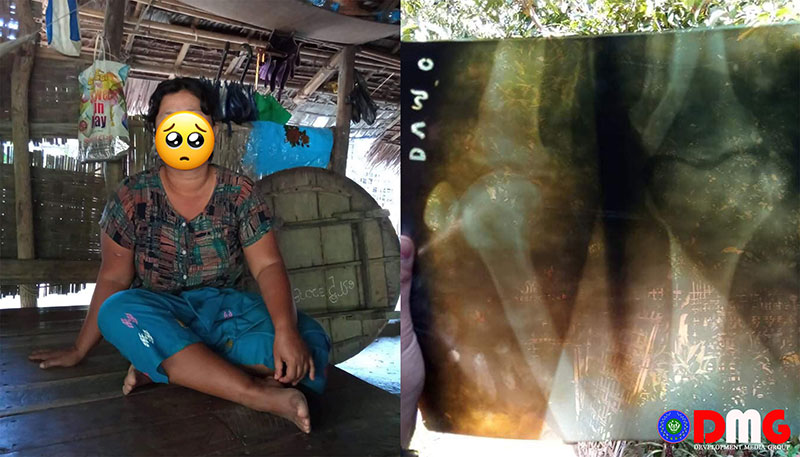 Hnin Nwe | DMG
12 January 2021, Sittwe

Activists are asking for donations to fund surgery for a Mrauk-U Township resident who was injured in a landmine blast in June 2019.
Daw Ma Wyne Chay, 40, from Nyaungbinhla village, was treated for two months at Mrauk-U District Hospital after the mine blast. She recently fell sick and X-rays showed shrapnel in her chest and legs, according to her daughter Ma Hnin Aye Khaing.
"She had an X-ray, and the doctor told us that she needs surgery to remove shrapnel. The doctor from Mrauk-U Hospital said he can take care of the shrapnel in the legs. However, he can't handle the heart and the surgery has to be done at Sittwe Hospital," said Ma Hnin Aye Khaing.
"But we make a living as vegetable hawkers. We only earn around K8,000 per day. So we can't afford the surgery," she added.
She also lost her father in the 2019 mine blast, which severely injured her mother and another 60-year-old woman. She said she has asked for help from the local civil society organisation Rakhine Ethnics Congress (REC).
"The REC said they would find donors. I'd like to ask organisations to help us so that my mother can undergo surgery as soon as possible," said Ma Hnin Aye Khaing.
The REC secretary U Zaw Zaw Htun said the organisation will provide necessary assistance to the mine victim.
"DRC [the Danish Refugee Council] also provides assistance for those injured in mine blasts. And the [government's] health department would also provide treatment. We will provide assistance that doesn't overlap with them," said Zaw Zaw Htay.
The Arakan Students' Union is collecting donations for surgery of Daw Ma Wyne Chay, said the chairman of the union Ko Toe Toe Aung.
"We are collecting donations for the time being. Once we get 400,000 to 500,000 kyats, we will take her to Sittwe for surgery," he said.
Dozens of people who were injured in landmine blasts in Arakan State over the course of the conflict between Myanmar's military and the Arakan Army still require further treatment, according to the REC.