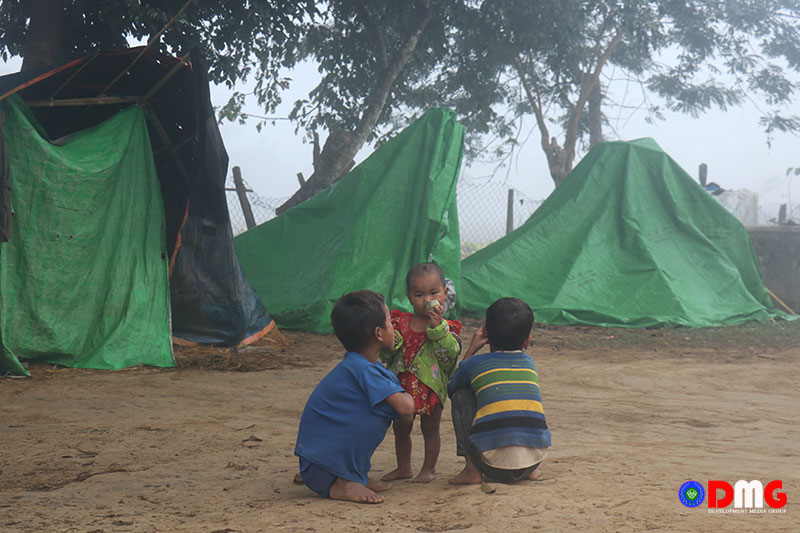 Khin Tharaphy Oo | DMG
18 January 2021, Sittwe

All camps for internally displaced people (IDPs) will be inspected for the return of IDPs as fighting between the Tatmadaw and Arakan Army has stopped in Arakan State, according to Colonel Min Than, Arakan State minister for Security and Border Affairs.

Col. Min Than said groups consisting of the military, police, township administrators and ward and village administrators would separate the aspiring returnees from those who did not want to return.

"IDPs will be divided into those who want to return home and those who don't want to return home. I don't know when the IDP camps will be inspected. If there is no fighting, it is best to urge the IDPs to return home," the Arakan State minister added.

On January 4, a letter was reportedly sent through the township administrator to inspect 15 IDP camps in Mrauk-U Township.

Daw Sein Sein Htay, an IDP sheltering at Tinnyo IDP camp in Mrauk-U Township, said that if armed soldiers enter the camps, there could be fears among the IDPs.

"If the IDPs see them [security personnel] in military uniform, they will all run away. It would not be good to come here, because everyone is scared when they see the military," she added.

"The IDPs are a little worried that they will be checked by the Tatmadaw. Because some people were arrested by the Tatmadaw during interrogations at Myo Oo Gaung IDP camp," said U Maung Win Sein, an in-charge of Sinbawkaing IDP camp.

The IDPs may return home due to the lack of fighting, but there are concerns about the dangers of landmines, they said.

"In the past, when my younger brother was chopping wood in the forest, he stepped on a landmine and lost his right leg. My younger brother was pronounced dead on arrival at the hospital. I am very worried to return home because some of my family members were affected by landmines," said Daw Sein Win May, an IDP sheltering at Tinnyo IDP camp.

"Once there is a security guarantee for the IDPs, they can return home. The Tatmadaw will inform regarding the landmine clearance work after inspection of the IDP camps is completed," said Col. Min Than.

The township administrators and deputy commissioners should be represented on behalf of the military and police in inspecting the IDP camps, said U Tun Thar Sein, an Arakan State MP for Mrauk-U Township.

"The IDPs are expected to flee in fear if armed inspectors enter the IDP camp," the lawmaker explained.

DMG contacted the Mrauk-U District police station and Mrauk-U Township administrator to find out when the camps would be inspected, but they could not be reached.

There are some 190,000 IDPs in Arakan State due to the conflict between the Tatmadaw and Arakan Army over the past two years, with many IDPs facing significant hardship and struggling to meet basic needs such as warm clothes and blankets.